YU Yutopia smartphone is called 'The Real Beast' - All you want to know
There's a new update about the YU Yutopia smartphone and it's that the handset is made of neither plastic nor sandstone, but pure metal. Yu Televenture, the subsidiary of Micromax, has been steadily impressing its customers with its series of YU smartphones. Be it the
Yu Yureka
,
Yu Yuphoria
or the recently launched
Yu Yunique
, the phones have made their mark with leading specs and an effective price tag. The all new YU Yutopia smartphone has been kind of a mystery for quite some time now. The company is calling it the 'Most powerful phone on the planet'. Let's take a look at what all we know about the Yutopia from the rumors so far.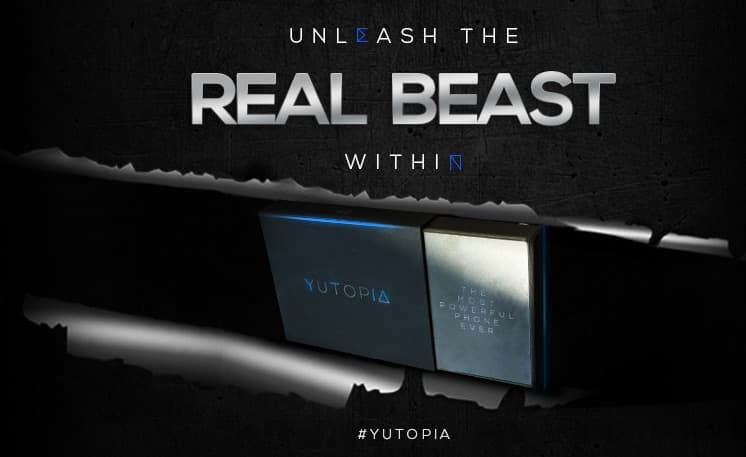 ​
Yu Yutopia was announced last month and the company hasn't yet declared an official launch date. It has only put up a web page requesting interested folks to share their email address so as to stay updated with the release.
The company uses the title of 'Project Achilles' that is used internally in its offices to refer to any work related to the Yu Yutopia smartphone. The project's name has to be in the memory of the Greek Hero Achilles, the central character and greatest warrior of Homer's Iliad.
YU Televentures' twitter account recently released a new teaser image that shows the phone put upside down with the words - 'R.I.P. Plastic & Standstone. True Power Lies in Metal'. It only goes to say that the phone will feature a complete metallic exterior.
Rumors are rife about what kind of specifications the phone might have. Well, the most common ones are that Yu Yutopia will be powered by a a Qualcomm Snapdragon 810 chipset. It will feature a 5.2 inch Quad HD display, 4 GB RAM, 32 GB internal storage and come with the Android Lollipop flavoured with Cyanogen OS 12.1 out of the box.
The usual connectivity options aka Bluetooth 4.1, 4G LTE, GPS and WiFi will be present. Talks are also on fire that the rear camera will have a gigantic 21 megapixel sensor.
That's all we know from the rumours, and it goes without saying that none of this is confirmed as of now as the company hasn't yet commented on the phone's features.
Since the festive season is already here, YU Televentures need not look for a better time to launch the smartphone. We are expecting the launch of Yu Yutopia around Diwali 2015. What are your thoughts about Yutopia's features and looks as seen in the teaser? Share with us in comments below.
Source:
Yu Yutopia
Be the first one to reply
Only logged in users can reply.