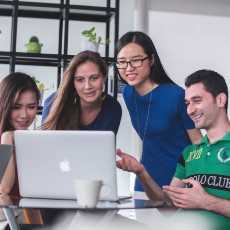 Internships for Engineers
Latest internship opportunities for engineering students
747 Members
Join this group to post and comment.
Summer Internship at NALCO
In the month of August I along with my friend Sudeep went to Bangalore to attain a seminar. So we took the train from Bhubaneswar to Bangalore. In our journey he insisted me tell a memorable story of my life, as he is inquisitive in nature. So the story begins here;

Internship is a basic step towards our professional life. In German language internship is 'Praktikum', that means it gives us a practical knowledge of our profession. Everybody needs to take internship and so came I.

In the middle of this summer i.e., in the month of May I had an internship with NALCO, Odisha, which is a pioneer in Aluminum products.

For this internship I had applied in NALCO two months prior to training. Then I got the offer letter from NALCO for internship. That day I along with my friends were so excited for the training.

After completion of my 6th semester examination, I was getting ready for the internship. As my joining date was on 5th May, so I along with my two friends started our journey one day before. After getting adieu from my family I seated on the bus to NALCO. In the journey time I kept on talking with my friends as I am a sufferer of motion-sickness. We just had a great khatti (chatting) with each other. We were serious about the internship as we knew that this is important for our future life. As it is a journey of 6 hours so we each became chatter boxes.

Some friends in our life, who will help us when need something badly, so as I have also got one of them, whose colleague is staying in the NALCO Township. He had arranged a lodge named 'Jagannath Lodge' for us. After reaching there we contacted him and smoothly came to our room in the lodge. We got everything all right but later faced a big problem i.e., the drinking water. As that is an industrial area so that the water there is tad bit brackish. At first we couldn't adjust with that but later o we had managed. We often bought drinking water. Anyway we took dinner that night and slept early. One of my friends was so excited that he recapitulated time to time that we would go to NALCO the next day.

In the next morning I mean on 5th May we got ready before 8 am. We got high on adrenaline. Taking all required documents we went to our destination. I thought the plant must be in a walking area from the lodge, but no it wasn't. There is no auto-rickshaw facility. So we kept on walking three and a half kilometer. We bought a safety helmet from a local shop as it is mandatory in the plant.

After reaching NALCO, we went to their training and placement section, from where we had to fill up all the formats, submit all the documents and at last to take to gate pass. Like us there were so many trainees waiting for gate pass. So the place was full of chaos. In India nothing can run smoothly so as there. There was no single row over the lobby. Some were belonging to NALCO family, so they got an advantage. Anyway we complete this job and took the gate pass which costs us 8 hours only. We felt so exhausted after getting the gate pass. So we planned for roaming after freshen up.

For refreshment we went to a nearby park in the township named 'Ambedkar Park'. There we breathed some fresh air and merry making over the lawn. WE made a regular schedule to come to the park as there are no refreshing sources in the walking radius.

On the next morning i.e., 6th May we went to the smelter plant of NALCO. Being checked by the CRPF jawans we got inside the plant. I had got the 'Carbon Area Mechanical' as my area of visit. I basically belong to Mechanical Engineering, so they taught me the mechanical part of the area which includes how the raw materials are coming, how the electrolysis process is carrying and the main part how the cathode and anode are preparing for electrolysis process. On that day we bunked the second half. One thing I will never ignore that we always have a bunk in all sector, it is class or anything else. I don't know what the opinion of all is, but I can proudly say that bunking classes make us serious in the next session. SO every part of life we need some rest to be energetic.

On the next day, 7th May we had plant visit in our schedule. I was really so excited for the visiting of plant. My trainer Mr. Mohan Nahak took me to the Green Anode Plant (GAP), Roding Shop, and Bake Oven which are the main part of carbon area. There was so much dust inside the Roding Shop, so our trainer told us to wear the mask, but I didn't have one. So I used my handkerchief as my mask and cover my face. Someone from our group told me that taking photos inside the plant is prohibited. But I didn't get any restriction from any side so I took snaps as much as possible. I also made comfortable with the terms use in the industry.

The very next day we bunked the training as it was a heavy shower in the morning time. So we planned to go through the nearby market and made us comfortable with the place. One of my friends had seen a dream of working in NALCO the night before. In the evening we went to the park and too some snaps there.

As we had visited our whole area, so we went for the next areas to know all about smelter plant. So then we went to the Pot line, where the main work is carrying out i.e., the electrolysis process. We had also seen some huge cranes by which the total process is controlling. We also had seen fork lifters, ladle and some mechanical instruments visually those we knew literally. I also got an engineer, who told me all the process in detailed manner after my request. We also had seen liquid Aluminum by him.

On the very next day the mercury kissed the thermometer on high and also there was an irregularity in humidity in the atmosphere. We had gone to the main site that day, the Casting House, where the production of ingots, billets, sheets, wire are done. We had also seen big blast furnaces where the inside temperature is maintained at 1100o C. There is minimum 50o C temperature outside the furnace. The day was really so irksome.

Likewise we had visited all areas of the plant. Meanwhile I got a chance to talk with the Assistant Manager, Mr. A.K. Pandey. He is a very friendly person. He told everything about the plant from his precious time. I felt lucky that day. Also we got chance to go around the Bake Oven as it was under maintenance. I had also seen those big chimneys, observing towers, FTP (Fume Treatment Area), the utility sector, where the packing is done. Also we got to know that the capacity of NALCO 1300 kg per day.

In this way we had spent a month in NALCO and at last got the certificate, which was the important thing of our internship, but the most important thing that we got to know something about NALCO, Smelter Plant. I wish that one month would be a memorable moment in my life. We had taken a step ahead towards our professional career.

In the mean while the train decreased its speed and reached the station. But by telling the story of my internship to Sudeep my old memories got risen up.

- By SWAROOP ROUT
College: GANDHI ENGINEERING COLLEGE
Internship @ NATIONAL ALUMINIUM COMPANY LIMITED
Duration: 1 MONTH
How did u apply for the summer internship at NALCO.
How did u apply for the summer internship at NALCO.
@arup homroy @lingaraj choudhary Guys, NALCO offers summer training certificates and not internships. This is what I have heard from friends. They recruit their employees through competitive exams.
I recommend that you guys check the website of Ecolab India to check for internships.
Also tagging @SWAROOP ROUT
Was there any exam for certification .If exam was conducted can you please share the topics or course of exam.