Skype Gets Bollywood Mojis And Emoticons To Add Some 'Masala' To Your Chats
Regular Skype conversations can be boring and now there's a way to fix it. Skype's Gurdeep Pall has announced that Skype will now get Bollywood Mojis and Emoticons which you can use in your conversations. Pall writes on official Skype blog that Skype's getting never seen before Mojis and emoticons based on Bollywood to add some 'spice' to your chats.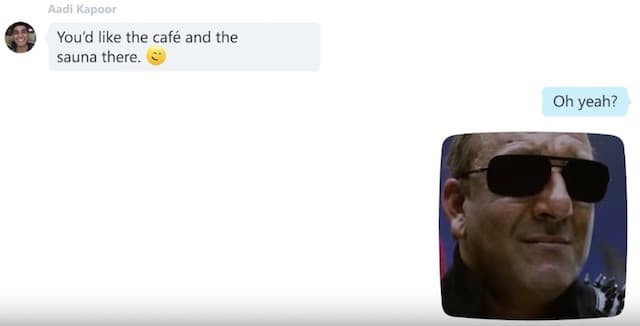 ​
Mojis are simple, short Bollywood clips from famous Bollywood movies. Skype says that it's partnered with Yash Raj Films (YRF) and Eros International to bring the clips from their famous movies; right from DDLJ, RA One, Dhoom, Tanu Weds Manu and several others. These clips would cover all the popular actors from Amitabh Bachchan to Ranvir Singh to make your chats more dramatic.
Check out the video demonstration of the new emojis -
Skype is also offering several new emoticons that will honor the Indian culture. The emoticons will be based on various foods, festivals, gestures and these will be available globally. Pall informed that there are about hundred Mojis at present and several new are being created by the designers. Skype believes that these new features will offer the best chatting experience to the Indian users of Skype.
Skype further informed that these clips may add to increased data usage. That's why Skype will cache the clips and emoticons on user's app. Users will not have to download the Moji or emoticon every time they use it.
In order to get access to the new Mojis and Emoticons, you will have to upgrade to the latest version of Skype; available for OSX, Windows, Android and iOS.
Source:
Skype

More emotions, less words and improved understanding! My congratulations to Skype! But still, the main points are quality of video connection and resources that Skype requires. I think those two must be resolved before saying that Skype has made itself better.
Only logged in users can reply.