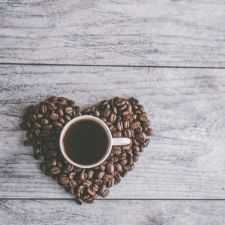 Coffee Room
Discuss anything here - everything that you wish to discuss with fellow engineers.
12796 Members
Join this group to post and comment.
Researchers Devise Three Colour Infrared Photo-Detector
Infrared rays are similar to other electromagnetic waves, and come in three variants depending on its wavelength, namely short, middle and long range. Due to manufacturing restrictions, till now, photo-detectors were unable to process all the three ranges together. Recently, team leader Manijeh Razeghi with her group has fabricated a new method to optimally achieve a three-colour (shortwave-midwave-longwave) infrared photo-detector.
The group has confirmed that only by varying the bias voltage, the device could precisely detect varying wave bands. The research objective of making the device will open up potential applications in the sector of infrared color televisions and three-colour infrared imaging. The system has been realized without taking the help of extra terminal contacts. The core of the photo-detector is made up of indium-arsenide/gallium-antimonide/aluminum-antimonide type-2 super lattice structure.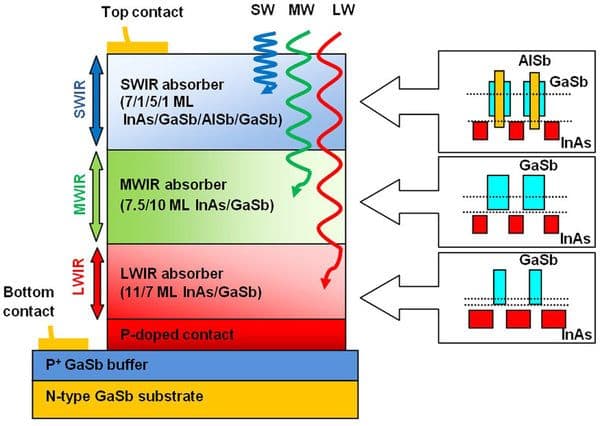 The colored rectangles in the insets represent the forbidden gap of component materials
​
Talking about its main operation, the voltage dependent device is sensitive to the varying voltage. According to the change, the device starts to show desired characteristics of three separate colors mapped to the bandgap of three absorbers. The complete device is an upgradation of the previous models, namely single-colour, short-wavelength infrared photodetector and two-colour, shortwave-midwave infrared photodetectors where all three colours were detected with prominent cut-off wavelengths and high cut off frequencies for every channel.
Professor Razeghi explained that the new approach will rejuvenate the infrared imaging technology and might open up new branches, depending on the newly emerging methods. The research was funded and supported by the Defense Advanced Research Projects Agency, the Army Research Laboratory and the Air Force Research Laboratory, NASA. The complete research report was published in the "Nature Scientific Reports" journal.
Source:
Northwestern University