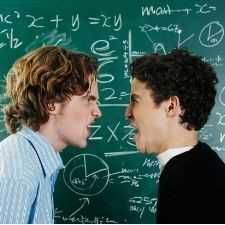 Debate Masters
Interesting and knowledge enhancing debates on almost every topic. Join in, and speak your heart out!
309 Members
Join this group to post and comment.
Real life Tortoise Vs. Rabbit Race - Who will win?
Everyone knows that the 'slow and steady' tortoise wins the faster rabbit. But what about a real life race between the two? Who will win?

Find out -



What's your take on the video above?
Meanwhile Dog in background realized there is a meal for him 😁😁
Rabbit was still running faster but Tortoise was more concentrated 😁
Was that rabbit really just too lazy or am I just realizing that the story I read so many times was actually non-fiction! 😁

For those among us who keep trying hard and are only inching towards our goals really slowly, this gives a lot of hope. Slow but steady wins the race.
rabbit think about people who was saw the event. and tortoise was forget all around it and walk on its way....................constantly..


actually thats a real life
we think about those people who live around us
we think much more about all these because of these people we forget our goal

and become a loser.