Opera Max Warns You About Background Data Usage By Apps On Your Android Smartphone
Opera Max, the Android app from Opera Software that helps you save on your data usage has added a new feature, the ability to warn you about background data usage. In the press release, the team starts off by quoting a survey that is conducted among current Opera Max users. According to the fact finding survey 30% of your mobile data is wasted by apps running in the background. According to their research, Facebook Messenger and Gmail download 73% of their total data in the background. They are followed by Google Drive, WhatsApp and Hangouts which consume 57%, 53% and 39% of their data while being in the background. The problem is here is that most users are unaware that their data is being consumed in the background, so Opera has come to their rescue with Opera Max Smart Alerts.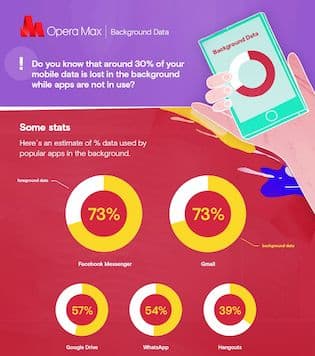 ​
The Smart Alerts work in the following manner, if any of your apps consumes more than 10MB per week in the background, it will notify you about that app. Once it notifies you about that app, it gives you a two-tap way to block that app from using your precious mobile data in the background. When you open the Opera Max app it shall show the "Data Usage Timeline" from which you can deduce how much data has been consumed in the background and when. The Opera Max's Smart Alerts will also alert you when it detects that an app is consuming data very rapidly in the background.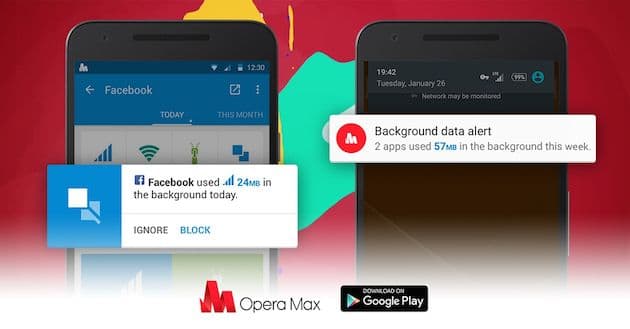 ​
We have to point here that the option of limiting background data usage of apps has been an inbuilt feature of Android Lollipop and onwards and the Opera Max takes this background data control to the next level. As we have covered earlier, the
Opera Max
is the only app for Android that provides data savings even for music and video streaming apps. To get the Opera Max Smart Alerts on your Android smartphone grab the latest release from
Google Play store
now. To know more about the survey we mentioned above, please visit the
press release
link.

android fun spending through multiple versions, such as security and safety is still not so high
Only logged in users can reply.