Technical
Mobile Phones Could Be Printed On Clothing Using New SPASER Technology
Ankita
If you are still not back from the awe of wearable technology, be prepared to have your mind blown with the latest research work in a new form of "spaser" technology. A research team from the Department of Electrical and Computer Systems Engineering (ECSE) at Monash University, Australia have begun investigation on a new kind of spaser technology that can develop really small and flexible, yet efficient mobile phones that can be printed on our t-shirts. Yep. That means the next time you hear a ringing, it could be your t-shirt and not the phone in your back pocket.
SPASER - which is short for "Surface Plasmon Amplification by Stimulated Emission of Radiation", is nothing but a nano laser technology. These nanoscale lasers can emit light beam from vibration of free electrons, instead of electromagnetic wave emissions. Chanaka Rupasinghe, the lead researcher on this project and a PhD student at Monash University, believes that a SPASER made entirely of carbon can bring about this revolution. Traditionally, all the spaser are created using gold or silver nanoparticles and semiconductor quantum dots. Whereas, the research team has developed their nano laser using a graphene resonator and a carbon nanotube gain element.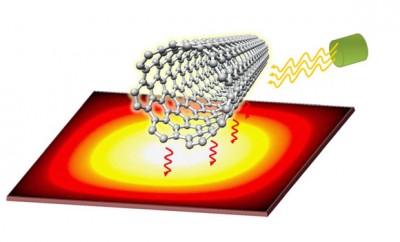 ​
Using carbon, the team has made sure that the new SPASER is more flexible and robust enough to operate at really high temperatures, all the while being super eco-friendly. The transistor-based devices in use today such as displays or microprocessors could soon be a thing of the past, if we do happen to launch all-new spaser based components and devices. This also means that this research work has the capability to remove the bandwidth limitations. The results of their research work showed that carbon nanotubes and graphene can transfer energy to each other through light. And since these optical interactions are so fast and energy-efficient, that they are best-suited for developing computer chips.
Not limiting the applications of their research to just the techno-gadget world, the team went on to share that it has really good use in medical field too. Some researchers have proved that there's a way to guide nanoparticles to destroy cancer cells, and that too without harming the healthy cells in the body. How awesome is that?
You can find more information on their research work in the by reading the findings they have published in the
journal ACS Nano
. What do you think about the research work surrounding SPASER technology? Share with us in comments.
Source:
Monash University Research
Anoop
This is a roller coaster ride through innovation.👍 Can't wait to see what happens in 6 years! 2020 would probably be the year of craziness and transformed tech!👀😒
Only logged in users can reply.