Google's New Noble Endeavour Will Enable Indians To Locate Public Restrooms
This winter pledge with "Swachh Bharat Campaign" and your all time search partner Google to make India clean by using public toilets. Powering the digitization, this time, tech giant Google brought an update in Google Maps to identify thousands of public toilets in India's National Capital Region and Madhya Pradesh. As Google joins the motive, "
Google for India
" has one more offering to redesign our lives with technology.
The generation Y is all about going smart with portable and wearable technology. Taking the same note, smartphone applications are developed to enhance lives by lowering our effort in thousands of areas. Once more, Google is ready to help you when you are in need of a restroom. According to Google's official blog, Google has worked with the Ministry of Urban Development that finally leads to a full database of location, address and opening hours of over four thousand community and public toilets integrated with Google maps.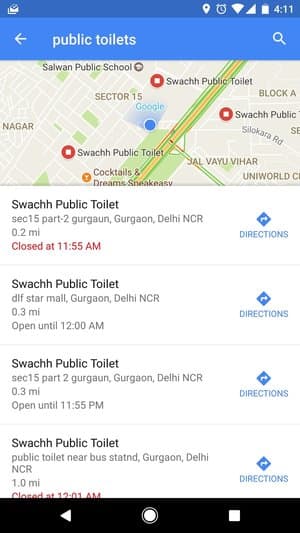 ​
Initially one will be able to use the service only in the areas of Delhi NCR including Ghaziabad, Gurugram, Noida, Faridabad, Bhopal and Indore in Madhya Pradesh. Adding more functionality, the application is available in both English and Hindi languages. As a matter of fact, if you search "Public Toilets" while your location in one of those already mentioned, you will get a list of them with opening time and directions facility.
This facility will also help new travelers and tourists to spot the restrooms without looking for nearby petrol pumps or cafeterias. Healthy sanitation habit is important to keep the city clean, keeping it at the focus, the new idea will soon take its footsteps in other metros and cities with Google. The updated application is now available on Google Play Store supporting both desktop, android, and iOS phone.
Source:
Google India Blog
Be the first one to reply
Only logged in users can reply.