Google's AI translator now supports Hindi
Google has introduced support for Hindi language in its artificial intelligence powered translation service along with Russian and Vietnamese. Barak Turovsky, who heads the translation product at Google announced the support for these three languages through his official blog post and also presented an example that shows how the service now considers entire sentence for translation than splitting it up into phrases. Here's a gif demo of the service; have a look -

​
It's no brainer that Google uses a lot of machine learning behind the scenes to accurately translate sentences. Google had introduced a new technique to power their translations last year, called 'Google Neural Machine Translation' aka GNMT; with support for eight languages viz. English, German, Chinese, Japanese, Turkish, French, Portuguese and Korean. Those of you interested in understanding how GNMT works, check out the details on
Google Research Blog
.
The new translations are being made available across Google's ecosystem comprising of iOS and Android apps, translate.google.com and also on Google Search on desktop and mobile platforms. Turovsky further promised that the support for more languages is coming in next few weeks. We threw a random English sentence at Google translate and asked it to translate it into Hindi. The result was impressive.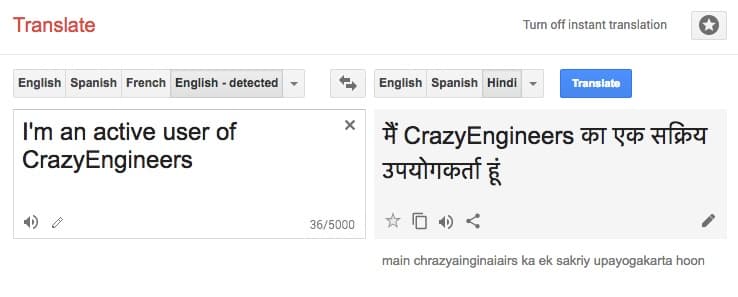 ​
Source:
Google Blog
Be the first one to reply
Only logged in users can reply.