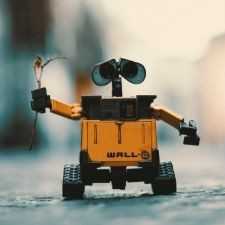 Robotics
Community of Robotics Enthusiasts: Discuss latest robots and questions with fellow robot lovers
574 Members
Join this group to post and comment.
'Gibbot'- An Ape Like Arm-Swinging Robot!
'Gibbot,' a robot being developed at Northwestern University can swing line an ape, with brachiating arm motion to hold onto a surface and the acquired momentum helping it move ahead. It imitates the brachiating movement of gibbons, which swing through trees easily. Similarly, this robot is schemed to move while conserving energy at the same time, with the momentum after the grab prompting it forward.
It has got two electromagnets at the extremes of both arms, which hold on to a steel wall as shown in the demonstration below. Locating the right step and grabby movement is definitely challenging, but the researchers affirm that it is theoretically viable to brachiate constantly. The Northwestern team, headed by Kevin M. Lynch, put forward Gibbot at the 2012 IEEE International Conference on Robotics and Automation this month.
Catch this bot in action here: