China's Ambitious Chang'e 4 Lunar Mission To Test Whether Plants And Insects Can Survive On Moon
China is gearing up for the launch of Chang'e 4, a set of two unmanned lunar missions which are being seen as the most ambitious and complex moon missions yet by any country. The plan is to land on the far side of the moon's surface, which is unexplored. The first part of the mission is scheduled for June and the other is planned to be launched later this year. Interestingly, India also plans to send the
Chandrayaan 2
to the moon this year.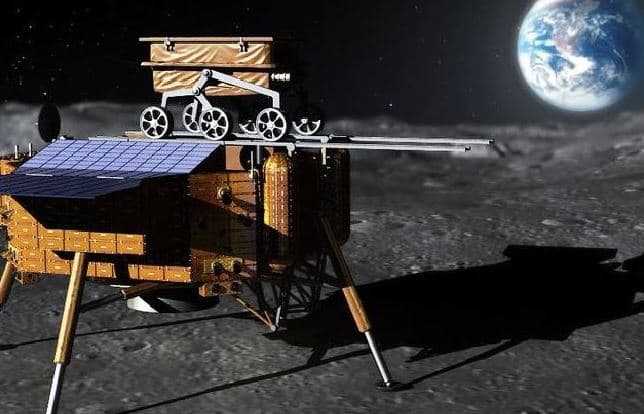 An Artist's impression of the Chang'e 4 Lander and Rover
​
The mission's first part will be launched in June this year which will establish a 425kg relay satellite 60,000km behind the moon. The Long March 4C rocket is assigned for the task of setting up the satellite. Once the communication link is set-up successfully, the second part of the mission will send a Lander and a Rover to the Moon later this year. The purpose of the mission is to study the geological conditions prevailing on the far side of the Moon's surface as well as investigating whether a small ecosystem of plants and insects can survive there.
The Lander will carry a container made up of aluminium alloy which will have seeds of certain plants and eggs of insects. According to Zhang Yuanxun, chief designer of the container, seeds of potatoes and arabidopsis along with silkworm eggs will be sent. The eggs will hatch into silkworms who will emit carbon dioxide while the plants will emit oxygen via photosynthesis thereby maintaining a simple ecosystem.
Some of the challenges which are faced for developing the ecosystem are temperature control and power supply, Zhang said. He also informed that the container will be covered by a layer of insulation for maintaining temperature. It will also be equipped with 'light pipes' to make sure that growth of plants and insects is not affected. Consistent energy will be supplied to the container by high-density batteries specially designed for the mission. The development of the container was done by Chongqing University and 28 other universities in China and has over 100 components. The container weighs 3 kilograms and is 18 centimeters long.
A highly ambitious mission, this is not the first lunar expedition attempt by China. China started its
lunar journey
in 2007 with the 'Chang'e 1' followed by the 'Chang'e 2' in 2010. The last one, 'Chang'e 3' was particularly significant as it marked the first soft moon landing after 1976. The Chinese space agency, China National Space Administration (CNSA) has plans to send its citizens to the moon by 2030, a very zealous attempt which has the potential to make the CSNA as the leading space agency of the world.
Source:
People
|
Sputniknews
Be the first one to reply
Only logged in users can reply.