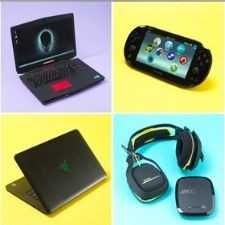 Gadget Geeks
Discuss all electronic gadgets - ask questions, doubts, troubleshooting tips et al. to fellow gadget geeks.
513 Members
Join this group to post and comment.
Can anyone recommend a lightweight firewall for Windows XP?
Hey CEans!
I'm maintaining an old compaq laptop of mine by trying to use lean applications on the computer. I've recently upgraded its hard disk (from 20gb to 120gb), but the memory ram (at 384mb) is the same as the modules still relatively expensive.

Can anyone suggest a good lightweight firewall for windows? I'm using Comodo firewall for the family computer, which is pretty kick a** (despite the warning prompts that keep on annoying my family members, haha). But its a little too CPU intensive for my laptop, cause I tend to run quite a number of engineering applications in parallel. At times I had to disable it completely.

I know, perhaps I should have installed Linux and stuff, but Im really not bothered to deal with the compatibility issues with the engineering software yet 😛 But since I still have the OEM license from the initial laptop purchase, might as well keep on using XP. I think its is still a pretty good workhorse.

So CEans, any worthy recommendations? 😀 Thanks in advanced!
Ash, I've heard good reviews about ZoneAlarm. I had tride it years ago and it was good.
Years ago? 😛 The free version isnt so good now, unlike the paid version.
Yep, years ago. I currently rely on Windows firewall 😁 .
The_Big_K

Ash, I've heard good reviews about ZoneAlarm. I had tried it years ago and it was good.
I have used both the trial as well as Paid version of ZoneAlarm... and didn't like it.
For free version I will advice AVG and for paid.. Norton... again this is my personal experience.
-CrazyBoy
AVG firewall? hmm.. if you mean antivirus, I'm currently using that anyway.

Two good free firewalls are the Comodo Firewall (beats even the paid ones) and the Sunbelt Kerio Firewall. You guys should check them out!

I'm testing out the Sunbelt firewall at the moment. Seems alright so far.. Though I was hoping there was a more bare bones yet strong and user friendly firewall out there.
Kerio is a great firewall if your machine is not the high end ones.
I recommend Comodo. Its bit CPU intensive as you said, but its serving as a firewall and a part anti-virus for me. SO i have just that on my system.
Well, you better configure Comodo well so that i does not annoys your family. Its notifications are too much.

AVG Antivirus is really Good. Thats the best that I ever had, but now my license expired