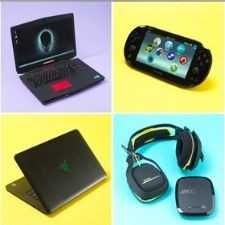 Gadget Geeks
Discuss all electronic gadgets - ask questions, doubts, troubleshooting tips et al. to fellow gadget geeks.
609 Members
Join this group to post and comment.
Android overtakes Windows to become world's most popular operating system
Bill Gates and Paul Allen had very big dream of putting a computer on every desk in the world running their own 'Windows' operating system. Microsoft's Windows did rule the world of operating systems for decades by becoming the most used and popular operating system. However, for the first time ever, another operating system has dethroned Windows and you already got it right; it's none other than Android.
According to the research team at StatCounter, a web analytics company, Android is now the world's most popular operating system. Android's market share surged to 37.93% compared to Windows' 37.91% in March. This is a clear indication that the world has graduated to the post-PC era. We aren't surprised.
It's important to note that the smartphone shipments around the globe surpassed PC shipments nearly six years ago and people began spending a lot more time on their smartphones compared to the PCs. One of the major factors that helped Android gain a big market share is that world's top two most populous countries - China and India have adopted Android more than any other operating system in the recent times. Lot of people got introduced to the world of Internet only through smartphones - majority of them running Android.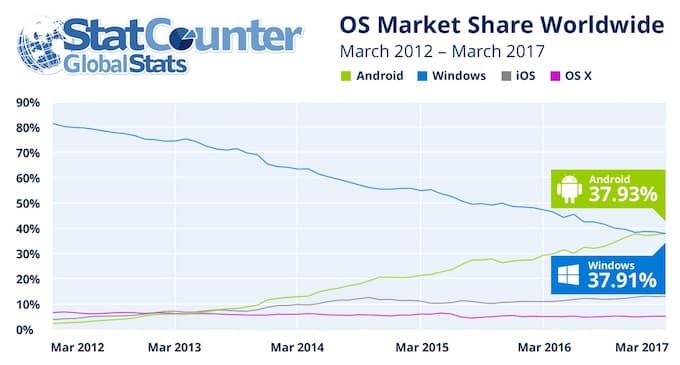 ​
Google definitely has the lion's share in making Android popular. By allowing the OS to run on entry-level smartphone hardware, Google ensured that the prices of the Android powered phones remained under check. Growing from 2.4% to 31.97% in just about five years indicates how important smartphones have become.
That said, when it comes to desktops, Windows still rules. It continues to enjoy about 84% market share. Microsoft knows that the world's moved on and has already explored the possibilities of seamless mobile-desktop transition via the '
Continuum
' project.
We'd like to know from our fellow engineers what future do they imagine for the smartphones? Will Android and mobile phones continue to dominate the operating systems or will be taken over by VR systems? Let us know.
Source:
BusinessWire
Agree.
At least in biomedicine, VR is making great strides both in teaching anatomy, training both clinical and support personnel and even augmenting surgical procedures.