3D Paper Based Microbial Fuel Cell Gives Decent Output Power With Zero Current Consumption
Like political understanding, science and technology have always merged together to deliver the next big thing. As a matter of fact, now most of the products are hybrids and innovation has taken a very unique shape that includes the sample space named interdisciplinary study. Simply speaking, every word spent on a project opens a complete new world that might be far off from where it has been synthesized. Recently a novel group of scientists from Iowa State University in Ames has discovered a 3D paper based microbial fuel cell (MFC) that exploits capillary action to channelize the target fluid through the system without using external power source.
The system was put under investigation for constant 5 days and it generates current as biofilms form on the anode. As reported the mini ecofriendly MFC produces 1.3 μW of power and 52.25 μA of current with power density of 25 W/m3 which is up to the mark for it to be next alternative source transforming chemical energy to electrical energy. Nastaran Hashemi, assistant professor at mechanical engineering department implied that the project is a stage winner in terms of efficiency and all the produced current is usable as the system itself is driven by zero current.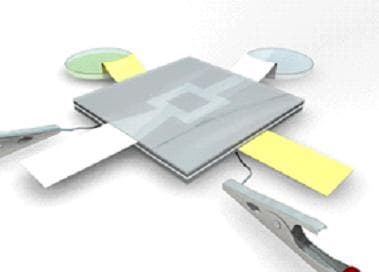 Flow assisting device for MFC
​
According to the team's explanation the most vital section of their project is the size and thickness of the formed biofilm. Bacterial cells provide the impulse to catalyze the metabolism reaction with electron-rich substances which gives birth to free mobile electrons. Then the junk of electrons move toward the carbon based anode through one of the bacteria dependent electron transport processes.
As an example, in the case of Shewanella Oneidensis MR-1 bacteria electrons are transported from individual bacterial cells to the anode using one of the three ways i.e (i) direct contact, (ii) excreted soluble redox molecules, (iii) biological nanowires. Among the different methods, the second is proved to be impactful. In case of power production, if the biofilm is not allotted minimum time to fully mature, the electrons get associated with extracellular electrons transfer which works differently from the intended one.
The final prototype is the first of its kind to demonstrate microbial fuel cells acting individually for longer duration. Iowa researchers are currently inspecting the project to improve output voltage maintaining a constant current. Reportedly, although it isn't ready for commercialization yet, it has immense applications in biosensors and power generation. The complete research project was published in journal Technology.
Source:
Technology
Be the first one to reply
Only logged in users can reply.