Xiaomi launches MIJIA 360 degree Panoramic Camera with 23.88 MP in China
Xiaomi, on Thursday, has launched its new product MIJIA Panoramic 360 degree camera in China. The device comes with loads of features including the IP 67 certification which provides protection against water and dust. The camera can even operate in the temperature range of -10 to 45 degree celsius and hence can even be used as an action camera. The main purpose of the device, of course, is to capture images and videos in 360 degrees, however, following are some of its detailed specification that makes it even better in its league-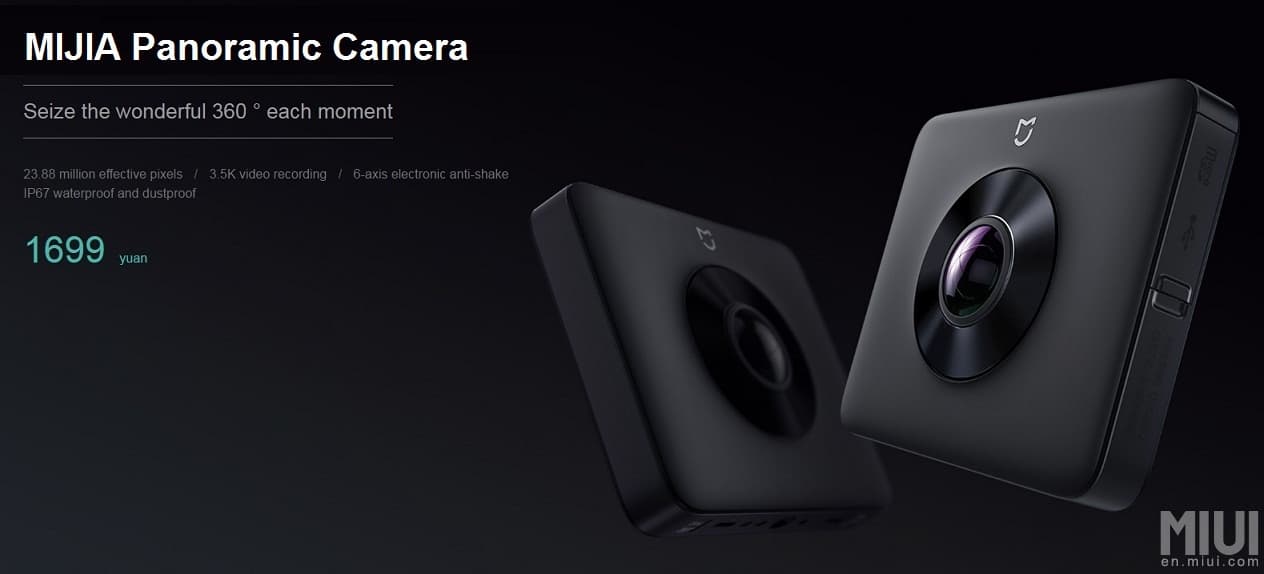 ​
The device has a square surface with fish eye camera lens on the either side. It has a dimension of 78 x 67.4 x 24 mm and weighs around 108.3 gm. The device has been given a shining black finish which complements its stunning looks. A 23.88 MP camera with video recording support of up to 3.5 k resolution is one of its biggest USP. Not only that but the Sony's IMX206 sensor also adds superb quality to the device's image and video capturing feature. With super wide angle lens and large aperture, it captures still images at 7k quality and supports video resolution up to 2304 x 1152 at 60 fps. With an Ambarella A12 DIS image processor, the device further comes with 6 axes electronic image stabilization (EIS) and is overall powered by a 1600 mAh non-removable battery.
Another advantage of this device is its connectivity options which include Wi-Fi 802.11 b/g/n, Bluetooth 4.0 and Micro USB 2.0. It also supports built-in and independent third party applications for both image and video editing. The camera supports Android version 5.0 or higher and can also be used with devices having iOS 8.0 or above. An expandable memory option is also present which allows it to store media files up to a capacity of 128 GB.
As per the MI Forum site, the camera will be available in china starting from April 6 onwards. It will be sold via Xiaomi Mall, Mi Mall, Lynx, Suningand and Jingdong in china and will cost around 1,699 Yuan which is roughly about 16,000 rupees in the Indian Currency.
Source -
Mi UI blog (China)
Be the first one to reply
Only logged in users can reply.