World's First 20'' 4K Tablet Panasonic Toughpad FZ-Y1 Launched In India
Best suited for use in a variety of business verticals, the all new 20 inch Panasonic Toughpad FZ-Y1 has officially arrived in India. Panasonic's signature brand 'Toughpad' has been a popular option for years as an an enterprise-built device in broadcast, architecture, retail, healthcare, banking and other sectors. Priced at Rs. 2.4 Lakh, this Toughpad is unique because it has bagged the title of "World's first 20 inch 4K tablet". The company announced the arrival of the tablet in India via a press release with us and the launch has happened at the hands of Toughbook Group's GM Mr. Yoshihiro Nakanishi and Panasonic India's GM Mr. Gunjan Sachdev. Let's take a look at the tablet's most important specifications.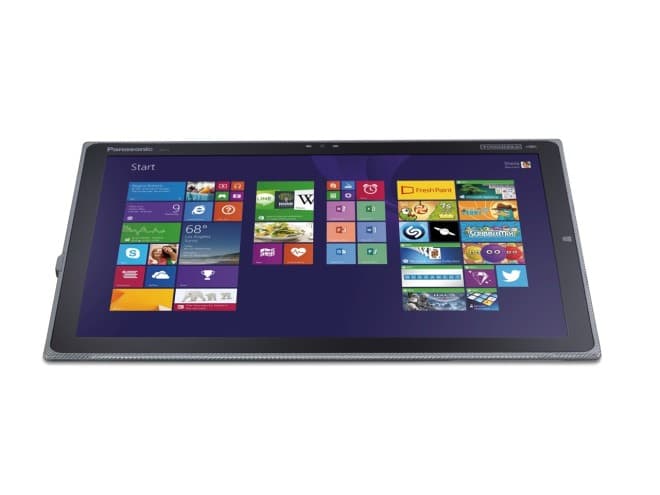 ​
Running atop an Intel Core i5 processor, the Toughpad FZ-Y1 features the Windows 8.1 Pro operating system out of the box. The CPU is coupled with an Intel HD Graphics 5500 GPU. The tablet's 20 inch display features a 4K Ultra High resolution aka 3840 X 2560 pixels, a 15:10 aspect ratio and 230 ppi pixel density, making it one of the most amazing displays in its segment. The IPS capacitive touch screen features 10 finger recognition technology.
Coming to the tablet's memory & storage - the FZ-Y1 tablet sports 8 GB RAM and 256 GB SSD that should take care of all of user's processing and storing needs. On the tablet's body, one can find a USB 3.0 port, a 3.5 mm earphone jack, a SDXC card slot and a docking connector. There also are ports for Built-in LAN, HDMI 2.0 inputs and a Mini DisplayPort.
Weighing about 2.41 kg (which is considerably light, given the size), the tablet is just 12.5 mm thick. Made out of lightweight glass fibre chassis, the Panasonic Toughpad FZ-Y1 passes all the standards required to call it a rugged, tough tablet best suited for industrial use. These standards include a scratch resistant glass and the fact that the tablet can withstand a drop from about 0.2 feet height (~76 cm). It also can be operated under extreme temperatures - such as (very cold) -29 degree celsius or (very hot) 60 degree celsius.
Coming to the tablet's connectivity specifications, we have three USB 3.0 ports, one HDMI out port and a one LAB port. The FZ-Y1 supports Bluetooth 4.0 and WiFi for wireless connectivity. The tablet also comes with a 720 pixel HD front camera and a Smart Card Reader as standard.
The folks over at Panasonic have created a video to showcase the Toughpad FZ-Y1 tablet. Check it out here -
The tablet is being sold with a 3 year manufacturer warranty and the sales have already begun. What are your thoughts about the Toughpad's specs, features and the 2.4 Lakh price tag? Share with us in comments below.
Source:
Panasonic
Technically, it's a solid product. I however doubt Panasonic will really find customers for this device. 'Toughness' won't be a crowd puller in India I guess.
Only logged in users can reply.