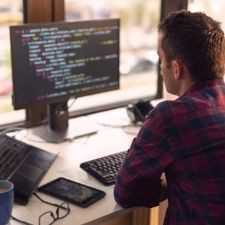 Software Testing
Software Testing Community: Get help from fellow software testing engineers and QAs.
439 Members
Join this group to post and comment.
Will it be difficult for me to get an IT job as I have less than 60% in 12th?
Aryaman, welcome to CrazyEngineers. I'm assuming that you're either in final year of engineering studies or have already graduated. 
Because the production of engineers in India is way more than than the demand, companies have setup elimination processes. That's why several of the leading IT companies require candidates to have 60% or more throughout. 
You may not be eligible for several of the IT companies; however, the criteria goes off if you gain some industry experience and have above average skills and expertise. 
My recommendation to you would be to look for a job or do freelancing work in order to gain some real industry experience. You should also aim to have certifications in the areas of your interest. For example, Java certification or CCNA certification would be a good start.
Your aim should be to target the companies that are willing to give you a chance based upon your skills and not your academic performance.
The initial salary offered should not matter to you much; because once you've gained some experience - you will be able to switch to bigger companies and command a better package. It'll be a 2-4 year action plan for you; and very well worth it. 
Give it a try. 
Kausubh said it right. Initial entry will be difficult. You must find a job in company that does not have the criteria. My suggestion is to look for remote jobs so that you can have relevant domain experience. 
You must also take a software testing course and certification. It will help you find a job.
Please go though following discussion. Lots of information.
Companies recruiting with eligibility criteria less than 60% | CrazyEngineers 
In summary, there are a few companies (Big IT companies of India, so called MNC) which look for percentage to filter out fresher candidates. Other companies, specially startups look for candidates who can work. Once you get 1st job you will better know how to shape your career. 99% companies don't look for percentage criteria from experienced candidates, but there are some companies like Infosys.
I would recommend to work on securing some certificates to get first job and few more while you are in initial years of your career. This will definitely make your resume looks much better and stop non-sense question of low marks in schools.