Home

>

Apps

>

Groups

>
Why does Jio 100 Mbps Plan Not Give You Promised Speed?
Question asked by Kaustubh Katdare in #Gadgets on Sep 26, 2019
Jio Fiber 100 Mbps plan does not give you promised 100Mbps speed because you need to have a 5GHz (dual-band) router to get that speed; OR you should have a wired connection between your router and the computer. 
Jio is advertising that its plans start at 100Mbps speeds; but they don't tell you that in order to really get that speed, your router and phone both need to support the 5Ghz wi-fi channel. Unfortunately not many routers support it. 
How to check?
Login to your router (typically available on IP: 192.168.0.1) and check if the router configuration specifies 2.4GHz and 5GHz frequencies. If yes, switch over to the SSD for 5GHz and check again from your phone. Most modern phones support both these channels and you should be good. 
Jio has been installing the 'black' box router that supports only 2.4GHz channel for a lesser deposit money (Rs. 2500). In my local tests - I could get only up to ~48 Mbps speeds. However, when I directly connect my computer through a patch cable, I consistently get 90+ Mbps. 
Here's the screenshot from the recent test I performed for wired connection -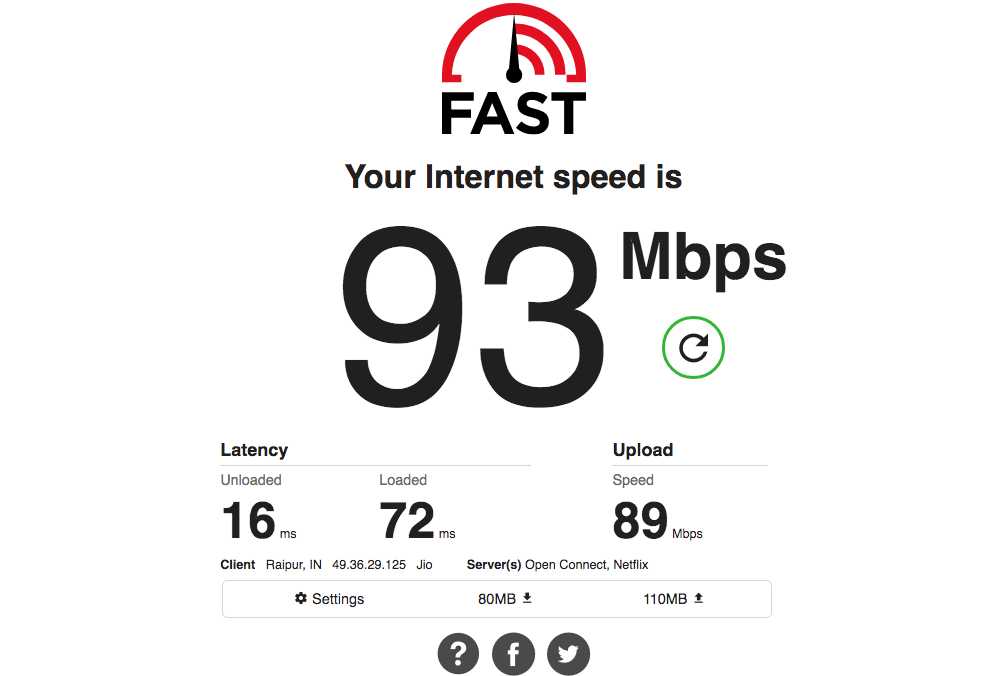 If you have questions about this, ask away. I'll be happy to answer.
Posted in:
#Gadgets