Home

>

Apps

>

Groups

>
Which type of motor is used in fan - AC or DC?
Question asked by sisir47 in #Mechanical on Sep 24, 2011
Is it a single phase motor or three phase motor and why? I want to know which motor is used in ceiling fan and washing machines and mixer - ac or dc? What is its working principle? This is frequently asked MCQ in most examinations.
Posted in:
#Mechanical
Domestic power is A.C. in nature and so two types of motor can be used 1-Synchronous Motor and 2-Induction motor.
Since Synchronos Motor can not be used because it runs at constant speed so Induction motor is used.
in domestic fans only capacitor run motor single phase used now. previously it was split phase single phase induction motor
synchronous not used in fans as speed control not easy for it
its capacitor start capacitor run induction motor
its not capacitor start capacitor run its only capacitor run motor.
we cant afford centrifugal switch in fan so c start c run not possible at all
and certainly we even dont need it..
yes you are correct and sorry for providing wrong information.
Thanks!!
please tell which motor is used in pump drive,
kiln drive of cement mills,
rolling mill drives and
electric traction.
which type of single phase induction motor is used in fan ??? and which type is used in motor pump .....
Let me start with the type of motor used in a ceiling fan:
In the conventional ceiling fans used in our homes, a single phase induction motor is used. Many call these as fractional kilowatt motors because they use minimum amount of power. This is a schematic diagram of a single phase motor.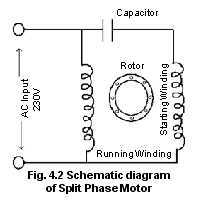 Generally we use a capacitor start & run an AC Motor for ceiling fans.