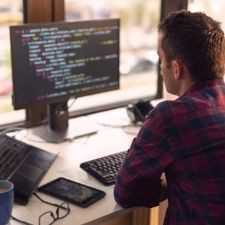 Software Testing
Software Testing Community: Get help from fellow software testing engineers and QAs.
439 Members
Join this group to post and comment.
What is better option for MCA - QA (Software Testing) or Javascript?
But,here my brother suggesting me that i have to go for javascript it is best option for u than Q/A. As he is working as software tester .as i have fear on coding so please suggest me which side should i move.
@kiranmai v Where does your interest lie? That's the question you need to answer first. Career prospects for those who pursue Javascript jobs as well as QA jobs are both great. If you think testing (manual/automation) attracts you, go ahead with that. If you already have Javascript knowledge that will come in handy in automation testing roles.
What do you like more - Javascript programming or QA analysis? Please answer so that we can help you further.
@kiranmai v - the options you've mentioned are not comparable. Please do refer to the discussion on CrazyEngineers about a very relevant topic: Career In Software Testing Vs. Software Development | CrazyEngineers
It's true that JavaScript is super popular and offers plenty of job openings. Your brother's advise, therefore is right. However, you will have to find out whether you are willing to be a JS developer or wish to have a job that does not involve coding.
Keep in mind that QA jobs will, at some point in time, require coding knowledge. Most of the QA engineers start their career as manual testing engineers - a job that does not require any knowledge of programming languages or coding. 
However, most of them will either 'have to' switch to automation testing at some point in their career. Automation testing will involve learning a tool and writing test scripts. 
Writing test scripts actually needs knowledge of scripting and programming. 
The point I wish to make is that - find out the real reason you are not comfortable with programming. This can be overcome. 
There are plenty of tutorials available for free on YouTube and other media that will teach you how to program.
That said, you will have to learn Javascript anyway. It's the language used by almost every web-project that you will ever use - and even the software QA engineers must learn it. 
My advise, therefore will be to learn Javascript and develop mastery in any of the frameworks like Vue, Angular, Express and even Node.js. Find out for yourself how comfortable you are with these. 
With some background in software development, you will find it easy to get into software QA and automation. 
Does this answer your question?
Yes sir.thank you so much for your information it is very helpful to me .