Home

>

Apps

>

Groups

>
What google is doing to the search?
Question asked by saandeep sreerambatla in #General Knowledge on Jan 24, 2020
Can you please read through the image and explain what google is doing ?
Google SearchLiaison on Twitter
If a web page listing is elevated into the featured snippet position, we no longer repeat it in the first page of results. This declutters the results & helps users locate relevant information more easily. Featured snippets count as one of the ten web page listings we show....
This change launched yesterday for 100% of our search results globally. There's no change to the overall set of web results we are showing. There are still ten unique listings, as before. Deduplicating simply means we're no longer showing any of those unique listings twice....
Deduplication does not happen with other features, such as Top Stories or Interesting Finds. Deduplication also only happens for the exact URL in the featured snippet and only within the first page of results....
Some have noted that a deduplicated URL may appear on the second page of results. This is not a guaranteed position, nor by design, nor might it stay that way. Deduplication does not purposefully move the deduplicated URL to the second page....
Posted in:
#General Knowledge
It's nothing major IMHO. Featured snippets are just a special box at the top of google search results' first page. Deduplication means that if your website URL gets listed at the top of the page inside that 'featured snippet' card, the same URL won't appear twice on the same page. (Earlier this was not the case. Sometimes we saw the same website URL listed twice on the search results).
Thank you for the A2A. Take a look at the following "snippet" that Google features for a search query. CrazyEngineers discussion is featured -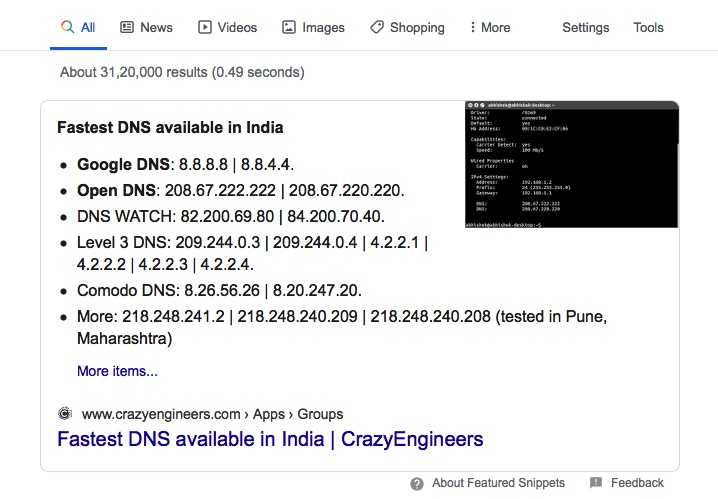 Earlier, Google would repeat CrazyEngineers in the rest of the search results on the page; which meant duplication of the content on the search results page.
Google's new change ensures that the site or URL featured in the search snippet is not repeated in the following search results on the same page. It could however be on the second or other pages of the search results. 
It's not a big change. Just that Google wants to make space for other websites instead of duplicating the URL in search results. It's a welcome move, I suppose.
I posted this to only understand if CE gets effected by this or not. I read the Twitter and I didn't really understand. But want to make sure that we are not effected by this change. :)
After kaustubh's reply I can say it doesn't effect us so cool. And thanks for the reply.