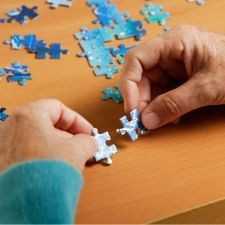 Brainy Puzzles
Puzzle Solvers: Interesting brainy puzzles shared by fellow puzzlers
270 Members
Join this group to post and comment.
Wanted: A Quizzophile & Puzzlophile
CEans,
On CE, we have a rock-solid bunch of most brilliant brains from all parts of the world.
To keep these brilliant CEans engaged; we recently introduced a new section ->
CE - Quiz | Puzzles | Mathematics - CrazyEngineers Forum
Now, we are looking for a quizzically / puzzulocally
inclined CEan who can lead the forum. We are looking for a leader who -
is passionate about puzzles, quizes & mathematics (any two will do 😉 )
is passionate about joining CE Core Team [& turning the screws with us!]
can get new, exciting puzzles from the Internet and crack them with our fellow CEans.
has a good sense of humor.
is passionate about building a great community with our fellow CEans.
is willing to work (which actually is fun) for free; like we all do here on CE.
What you get?
Instant recognition & respect among ever expanding CE community throughout the world.
A special user-rank & special CEan status.
Chance to make a difference and being in the CE Core Team.
If you are THE ONE, reply in the following thread : -
https://www.crazyengineers.com/forum...nted-quizzophile-puzzlophile-discussions.html
Questions/comments/feedback/criticism/bouquets shall be accepted in the same thread