Home

>

Apps

>

Groups

>
Tata Docomo Photon Max Wi-Fi Dongle Priced At Rs. 1,999 Now Available In India
Question asked by Ankita Katdare in #Coffee Room on Nov 30, 2013
Tata DOCOMO, one of the leading names in mobile data services in India, has launched a new dongle called the Tata Docomo Photon Max Wi-Fi which offers free national roaming and speed up to 6.2 Mbps. With the facility to connect at the max 5 devices, the dongle according to the company is the cheapest WiFi Dongle in India. This dongle can be used to create your own wireless Internet zones anywhere and access the web through devices such as phones, laptops and personal computers. Though currently the device is currently available for CDMA customers only but in coming 10-15 days, it will be available to GSM users also. Powered by the Qualcomm Gobi dual-core processor, the Tata Docomo Photon Max WiFi is based on the Rev-B CDMA technology. Like the other dongle it has in the market, Tata Docomo has got a list of pre-paid, post-paid plans as well as post-paid unlimited plans starting from Rs. 650 to Rs. 1,500.
You can use the Docomo Photon Max WiFi dongle in lot of device other than laptops and phones. These devices include Car's Music System, DTH, Power Plug, Car Charger, Battery Bank etc. because of its ability to let you create your own Wi-Fi Zone. A great idea for existing Tata Docomo Photon users would be to upgrade to Photon Max Wi-Fi by getting a new device at Rs. 1,999. The Customers who avail the option for Advance rental plan of Rs. 4999 and avail 15GB of unlimited data for 3 months. There is also a device cash back offer which makes the device free of cost in 13 months. However, it has to be noted that in the unlimited plans speed would be reduced to 153.6 Kbps once the user crosses the limit.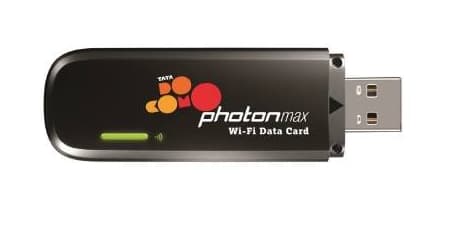 ​
"While wireless data connectivity has greatly increased the level of user experience on mobile devices, Photon Max Wi-Fi promises video speeds and will allow data-hungry applications to run seamlessly between multiple users," Tata Docomo President Operations (Mobility) Elango T said. Coming to the compatibility of this device, the dongle is compatible with Windows 7/XP/Vista/8 or Mac OS X 10.5/10.6/10.7/10.8 and higher. A little about the device's tech specs - It has got 90.6mm x 12.6mm x 28.6mm dimensions and operates in the 800MHz frequency band and supports 16GB external memory. It can be connected to most desktops or laptops via a USB 2.0 port.
So, how do our readers like the new TATA Docomo Photon Max WiFi Dongle for creating WiFi hotsports wherever they go? Share your thoughts with us in comments below.
Posted in:
#Coffee Room
it can be a good choice for students but speed is the only concern.If it can offer same speed it would win many hearts.