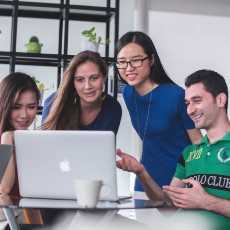 Internships for Engineers
Latest internship opportunities for engineering students
573 Members
Join this group to post and comment.
Summer Internship/Training For Engineering Students 2012
CEans,

This summer all of us, together will update our site with information about summer internship and training opportunities and experience sharing from all over the world.
Today almost every Engineering & Professional graduate program in India and abroad includes Summer Training as an important part of their curriculum, with an objective to enhance the knowledge of the students on different cutting edge technologies which has been important part of respective industry.

Now-a-days, most of the students run for internship and training course to merely obtain the certificate and due to this there is serious lack of trained professionals with the desired skill sets to take on the ever increasing demand of an industry.

Some topics that immediately come to my mind when I think about topics for training include the following -
C, C++, .NET, J2EE, C, PHP, IBM AIX, VHDL, LINUX, UNIX, ORACLE, SEO, CRP, ETHICAL HACKING, EMBEDDED SYSTEM , ADVANCE EMBEDDED SYSTEM, ROBOTICS, CATIA, AUTOCAD, ANDROID, iPHONE/iPAD APP DEVELOPMENT, NETWORKING, MATLAB, WEB DESIGNING & HOSTING, PCB & CKT. DESIGNING etc.. There are many more for respective engineering branches.

Let us all try to make the best use of this internship section for benefit of all the engineering students.
Come on guys, we need volunteers for this.
Guys HP education services is providing summer training in almost all the fields which akd have mentioned above. To get the details open the link
www.hpesindia.com
Courses offered at Noida center :
Programmable Logic Controller( Basic + Advance)
SCADA
Auto CAD
Pro-E
Android
Programming Techniques using 'C'
Data Structure using C Language
Core Java
Core Java Aligned to International Certification Preparation
Asp.Net with C#
Asp.Net with C# with Preparation of International Certification
J2EE with Struts Framework
J2EE (Struts with Hibernate)
J2EE with Preparation of International Certification
Embedded & Robotics - Basics
Embedded & Robotics - Advanced
Linux Administration with Scripting
Networking Aligned to CISCO Certification Preparation
Networking Aligned to Microsoft Certification Preparation
Network Management & Security
RDBMS - Basics
RDBMS - Basics+Advanced
PHP
VLSI - Basics
VLSI - Basics+Advanced
MATLAB - Basics
MATLAB - Basics+Advanced
Campus Recruitment Training (CRT)
courses are offered at various places in India. I have provided the email and contact details below. All the best to CEans who will be enrolling for the training.😀😀
Email:
query@hpesindia.com, info@hpesindia.com
Contact No: 9313849010,9312889010,9335469335,9307021422,9350126025
Anybody having knowledge of Internship about Mechanical Engineering ?
Guys, start separate threads for each of your queries, so that we can address them one by one.
can i post the one i'm conducting, here?
News for Nagpur:

Albedo Informatics is conducting summer training on
1. Wireless Robotics and Embedded Systems and
2. Mobile Application Development.

3 weeks extensive training including mini and major projects and one Live industry project.

Guest Lectures by International Faculties.

Starting 26th may onwards. Last date of registration: 15th May.
@manishsk- didn't got a good response from the people trained at hpes. The thing is, it is a tie-up with some firm, the original hp is not conducting the training. The hp is a hardware specialized company, so it had a tie-up with one of the software firms and thus the quality is not good. came to know some other tie-ups of bigger firms like hcl, microsoft etc. So, according to the response i got, i advise not to opt for such training institutes.