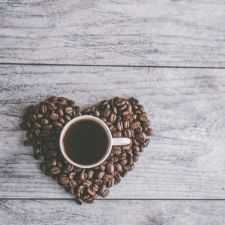 Coffee Room
Discuss anything here - everything that you wish to discuss with fellow engineers.
12762 Members
Join this group to post and comment.
Strontium 64GB Nitro Plus Nano USB 3.0 Flash Drive Review
Having been through the era of 1.44 MB capacity floppy disks, I have been a loyal fan of USB drives ever since I saw the first one, several years ago. I even remember shelling out a few hundred bucks to get that new HP, 2GB pen-drive and feeling ahead of the competition, when everyone else had a 512MB stick. But technology upgrades at a very fast pace and everyone carries 16 / 32 GB flash drives in their pockets these days.
The good folks at Strontium asked us if we could review their
latest USB 3.0 Flash Drive
and I knew I wanted to get my hands on it. Yep, it's the same one that we informed you about - the flash drive that not only is the speediest on the market, but also the tiniest. I've been playing with this new shiny little gadget for the last 2 days and I'm happy to present our 'official' opinion about it.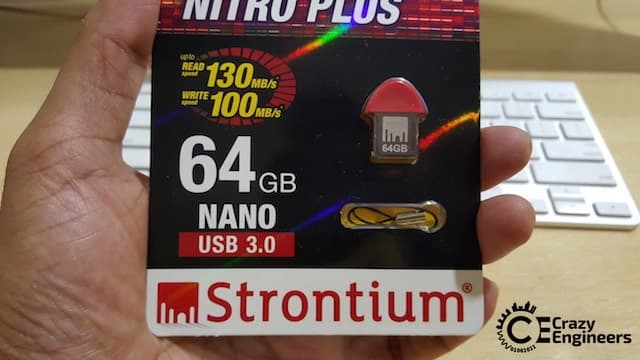 ​
The Form Factor
:
The typical 64GB drives in the market are about the size of your thumb. However, the first thing that strikes your mind when you hold the product package in your hand is that the size of this 64GB drive is about your thumbnail! All that means is that the circuitry inside has been designed after a lot of crazy engineering which allows so much of storage inside such a tiny form factor. With the red cap atop, the drive itself looks like a small, good-looking, hut. The package also comes with an accessory in the form of a string, which I believe can be used to attach to your keychain using a small hole at the top of the red cap. The red cap also makes it easier for the user to put the drive in and take it out of the USB slot on computer.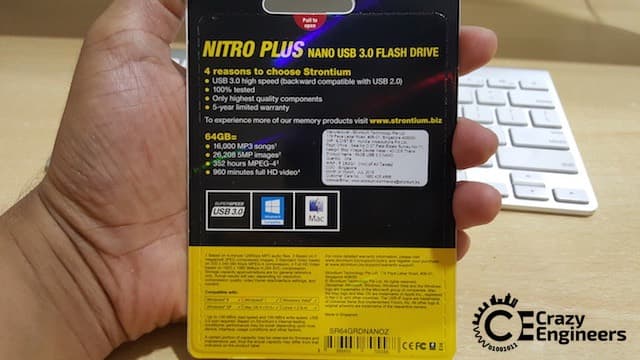 ​
The actual dimensions of the drive are 20.79 x 16.57 x 7.18 (length x width x depth) millimeters. It weighs just about 2.5 grams and I need not tell you that this can find a place in your pocket or even wallet, making it your on the go storage for all your songs, videos and presentations.
The Geek Stuff: What's Inside?
As observed by Ganesh T S of
AnandTech
, the factor that contributes to the increased cost of the typical high performance flash drive is the SATA SSD controller, behind USB 3.0 - SATA bridge. The recent change made by vendors is to use a native USB 3.0 flash controller, such as the one employed by Strontium Nitro Plus. Strontium decided to go with the Silicon Motion SM3267 single-channel USB 3.0 controller. This controller is known to boast reading speeds of about 160 MBps, based upon the type of the flash memory. It also helps reduce the overall size and cost of the device.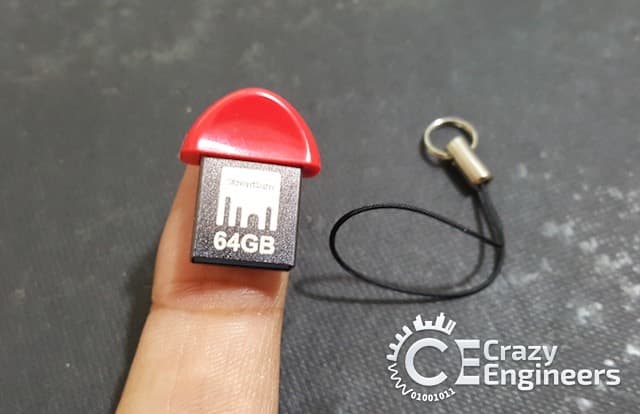 ​
The flash memory in the Strontium drive is provided by Samsung TLC NAND. Does the Samsung + Silicon Motion combo work to provide awesome read/write speeds as Strontium advertises? Let's find out.
Data Transfer Rates : First Impression
Even before firing up any benchmarking tools to test the actual data transfer rates offered by the Strontium Nitro Plus Nano drive, I connected it to my iMac (2011) with USB 2.0 and dumped a 1.13 GB folder comprising of about 275 photos and a few videos onto it. Even with USB 2.0 (yep, the drive is backwards compatible), copying 'looked' very fast. It took about 75 seconds to copy all the data. Copying back from the drive to my computer took about 40 seconds and that means this drive is faster than most of its competition. But my perception of 'fast' needs to be backed up by the data before we can confirm that the this nano drive is actually delivers what it promises.
Disclaimer: We only used OSX to perform the tests; which primarily powers the hardware at CrazyEngineers workstations. Refer to the detailed benchmarking tests done by AnandTech for performance on Windows 8.1 Pro machines.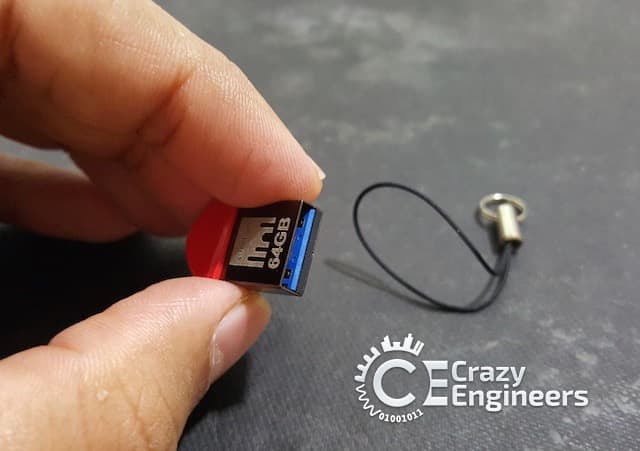 ​
Test I: Our first test was done on 2011 iMac running Yosemite, with a USB 2.0 port. Note that the Strontium Nano USB drive isn't meant to be tested on USB 2.0 drive; but we decided to give it a go because it's backwards compatible. We used XBench benchmarking tool and following were the results -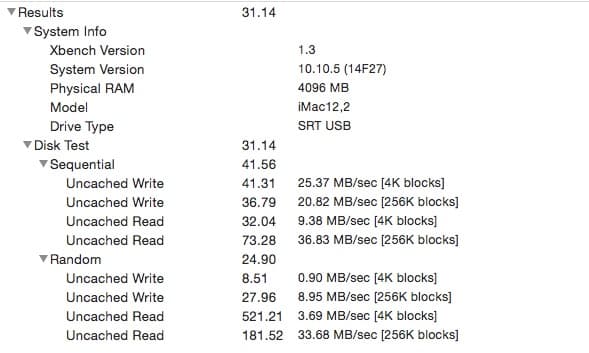 ​
Notice that the Sequential Read / Write speeds, which no doubt are impressive. But the real fun begins when you put the drive where it's meant to be!
Test II: Second test was a 2014 iMac running Yosemite, with USB 3.0 port. The sequential write speed for 4K blocks of data reported by XBench was 96.51MB/s and the read speed was 21.90 MB/s. The numbers for 256K blocks was 95.30MB/s and 117.97MB/s. Aren't those impressive?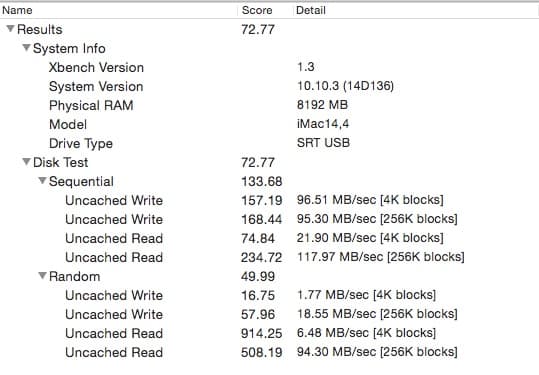 ​
The above figures confirm that Strontium is definitely one of the fastest drives around. You may not always plug this drive into a USB 3.0 port; and still expect the drive to perform wonderfully.
Did It Get Warm?
One of the complaints I've had with metal-body pen drives is that they tend to get warm after continuous data exchange. This isn't very abnormal. I was however surprised that the Strontium's USB Nano stayed cool even after transferring several GBs in and out. It just got only a little warmer after I transferred about 30 GBs of data to it and subsequently read all of it. Overall, it left me with nothing much to complain about temperature.
I also observed that the drive maintained the transfer speeds even while continuously transferring several GBs of data in and out of it. The drive perform consistently and I couldn't expect more from it.
Honey I Spilled Coffee On My Flash Drive!
The drive is rated to be 'splash proof'. The packaging does not mention it, but the
product specs sheet does
(PDF). I decided to test it by splashing about 1/4th glass of water on the drive; and it did continue to work normally. There is no mention of IPX4 rating anywhere on the package or the specs sheet, so don't take it for granted that this will work always. I'm happy it worked for me. Casual coffee or water splash on the device should not damage it. But if you accidently drop it in a bucket of water, you're likely to be out of luck.
Final Words:
The Strontium Nano USB 'Nitro Plus' is definitely an attractive package that leaves you not much to complain. The only thing I'd have desired with this USB is a small plastic cover. Yeah, if I'm buying a flash drive that's going to be my daily companion for storage, it better come with a cover to protect the port from dust and sweat. But all that said, this drive does what it promises and help you save your precious time. Though faster than most of its rival, I couldn't confirm if it's the fastest one around; but it does pack a punch for its small form factor.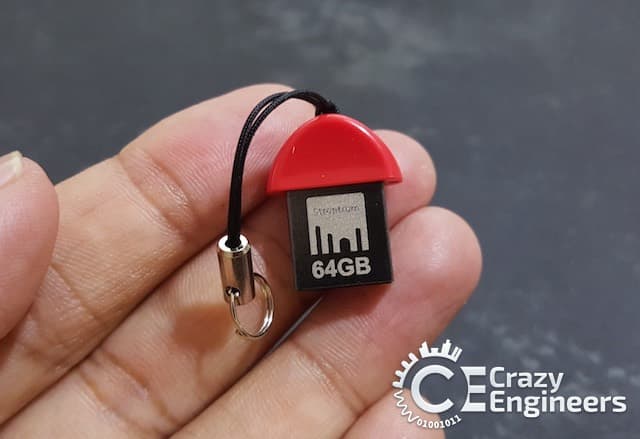 ​
Ultimately, it comes to what you really want. There are bigger (both capacity and physical size) and faster drives available on the market, like the
Kingston HyperX DataTraveler 3.0 (256GB)
but it's not just as portable as the one from Strontium. Keep in mind that the HyperX from Kingston retails for a whooping sum of Rs. 17,999/-.
Price and Should You Buy It?
Amazon India
:
Strontium Nitro Plus Nano 64 GB USB 3.0 Flash Drive

I promise you will be more than happy to own it
. It will allow you to carry around thousands of your songs, truck-loads of selfies and your favourite movie collection everywhere with you. Strontium offers a 5-year limited warranty with the device as well. Overall, Strontium has delivered what it promised.
If you have any questions about this device, I'll try my best to answer.