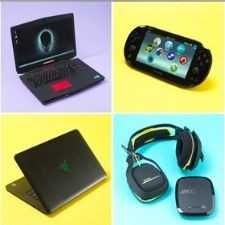 Gadget Geeks
Discuss all electronic gadgets - ask questions, doubts, troubleshooting tips et al. to fellow gadget geeks.
647 Members
Join this group to post and comment.
Samsung Galaxy Tab 2, Galaxy Beam And Galaxy Note 10.1 On The Plate: MWC 2012
Samsung has announced three new devices on the first day of the Mobile World Congress, Barcelona. The first is the sequel to Samsung Galaxy Tab which comes in the form of Samsung Galaxy Tab 2. The Galaxy Tab 2 will launch in the traditional 7-inch size as well as a new 10.1 size.  Both the tablets will run a configuration of  a 1GHz dual-core processor, and two cameras topped with the latest Android 4.0 OS dubbed Ice Cream Sandwich. The tablets will be 3G-enabled, though Wi-Fi only models will also be available.
The company has also announced the launch of its popular Galaxy Note in a 10.1 inch version. That is almost double the screen size of the original Galaxy Note, which is already known for its tablet-smartphone crossover design. The 10.1 inch Note will also be accessorized with the S Pen. The new 10.1 inch design will run almost the same features as its smartphone version with Ice Cream Sandwich as its Operating System, giving the Galaxy Note an edge over HTC's Jetstream and Flyer tablets. The Galaxy Note 10.1 boasts of a 1.4 Ghz processor and HSPA+ connectivity.
Apart from the successors and modified versions, Samsung is introducing Galaxy Beam, a smartphone with a built-in projector that would let users project images and videos on surrounding walls or blank surfaces. The phone also packs a 5MP camera and records video in 720p at thirty frames per second. The phone is half-an-inch thick in size and runs on 1 GHz processor. Unlike most of the MWC party, Galaxy Beam doesn't run an ICS but sticks to Android 2.3, Gingerbread version.
Source:
Washington Post
 Image Credit:
Engadget