Home

>

Apps

>

Groups

>
Samsung Galaxy Note 510's Price In India Is Rs. 30,900. Now Up For Pre-Orders.
Question asked by Ankita Katdare in #Gadgets on May 4, 2013
Samsung is back with yet another tablet (how often do we use 'yet another' here?) that's featuring an 8-inch screen and so it won't categorize in the smartphone section ever. Even though the Korean Consumer Electronics manufacturer is now best known for churning out the phablets or enormous smartphones (as the non-netizen would put it), it never fails to bring us real tablets that 'move' you. Well, smirking apart, Samsung's Galaxy Note 510 has entered the Indian market, without much aplomb, and is set to sizzle the tablet-space with its Android 4.1 (Jelly Bean) running, 3G-enabled tablet that operates upon a 1.6 GHz quad-core processor.
With an internal memory sizing up to 16 GB and a microSD card support for memory extendable up to 64 GB, the Galaxy Note 510 is what BD Park, Samsung Electronics President and CEO (South West Asia) said, "A perfect fusion of portability and everyday productivity resulting in a pioneering, pocket-sized solution". All that and the 'multi-window' feature, thanks to Jelly Bean will let you use multiple live applications split upon the 20.32 cm screen, really optimally.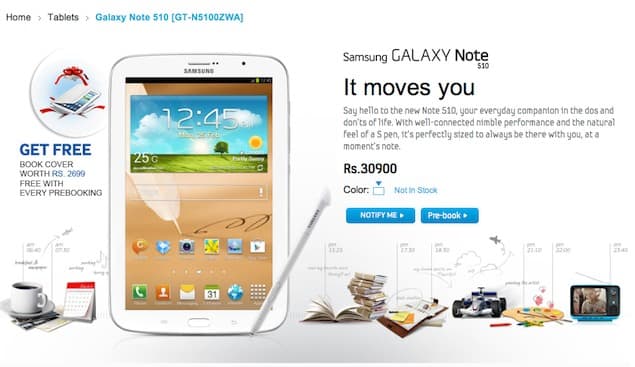 ​
Users will be able to access the in-built app called 'Awesome Note' and take unlimited notes like memos, diaries and remember-lists. The S-Pen that will come bundled-up with Galaxy Note 510 gives you air-view access and lets you check preview of videos, emails, photos and appointments on S Planner without opening the file or application in full, just by hovering over the screen.
At a cost of INR 30,900/-, the tablet is now available for pre-orders and ever-so with an interesting offer. Well, all that the buyer has to do is send a sms to the firm, and he/she will get 12,000 coins in the virtual wallet. Now, that is something. These coins will get activated as soon as one downloads the myServices application and can be redeemed by streaming premium movie, downloading bollywood songs, playing game and come with a validity period of 3 months from the date of purchase.
Posted in:
#Gadgets