CrazyEngineers V4: Early Access
We are developing the next version of CrazyEngineers. If you wish to receive latest updates and early access, click the link below.
Home

>

Apps

>

Groups

>
Samsung ChatON 3.5 Features 1GB File Sharing, Instant Message Translation & More
Question asked by Ankita Katdare in #Gadgets on Apr 16, 2014
Samsung Electronics has updated its instant messaging platform - the not-so-popular Samsung ChatON service to version 3.5. In the latest update of the ChatON app (for Android, iOS, Windows and Blackberry OS), Samsung offers some useful features such as up to 1 GB file sharing and easy translation of messages from English to Hindi and vice versa. Moreover, a local language translation feature for incoming messages supports 14 Indian languages. Another great feature offered in the new version is the ability to recall messages. The users can recall messages they have sent to a friend in 1:1 chat rooms, even if the receiver has already read them. To do this you just have to tap and hold the message bubble and select 'Recall' to make the message disappear.
Thanks to the integration with the Glympse application, the new update introduced through ChatON v.3.5 lets people share their real-time location with their ChatON friends for a specified period of time. This feature was received really well at the MWC 2014 demonstration. With the Large file sharing support, users can share up to 1GB files with their friends as well as allow up to 1,001 persons in a group. Owe to the enhanced message integration feature, the users can now have all their ChatON and SMS/MMS messages from the same sender in one chat room.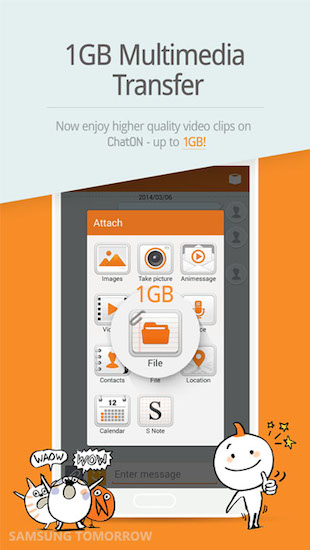 ​
Users of Samsung ChatON in India have reasons to feel good because with the app's Live Partners feature, which includes - CriqHQ, Ebay, Mint, Aajtak, Think Digit etc. provides consumers with exclusive content, discounts and deals.
It is important to note here that Samsung ChatON app is also available on features phones and accessible via PC. You can use ChatON simultaneously across five devices by registering for a Samsung Account. How so you like the new features of ChatON 3.5? Do you think that it will stand a chance against the rivals - Facebook Messenger, Whatsapp and all the new emerging social messaging platforms? Share your thoughts with us in comments below.
Source:
Samsung Global
Posted in:
#Gadgets
Features looks quite promising and samsung was looking to emerge like BBM. but its success is with consumers.
People are frustrated with so many messengers and many of them uninstalled all other messengers and keep only best one.I personally used messengers like Wechat, Hike, whatsapp etc but now sticking to whatsapp.
ChatON is one of the messaging services that is popular because of its native language support, it has found users in countries like China and Korea for the same reason but globally people are not accepting it because of its cluttered interface. Even though Whatsapp is a superior competitor it can learn a few things from ChatON. Starting with multi device sign in and PC support. Imagine Whatsapp chats getting quicker and longer when you do them on a PC.