Home

>

Apps

>

Groups

>
Saker S-1 - The Mach 0.99 Personal Jet With Operating Cost Of $2/Nautical Mile
Question asked by Kaustubh Katdare in #Coffee Room on Jun 3, 2013
If you are a busy businessman who doesn't want to wast time (and don't mind spending money to save time) then you might just look at the beautiful beast called Saker S-1. It's military jet inspired personal jet that aims to reach 0.99 aka almost equal to the speed of sound. The company says that it will cruise at a speed of Mach 0.95 and reach the top speed of Mach 0.99. This two seater plane will shave an hour off a 1500 nautical mile flight (approximately 2778 km) as compared to its closest competitor.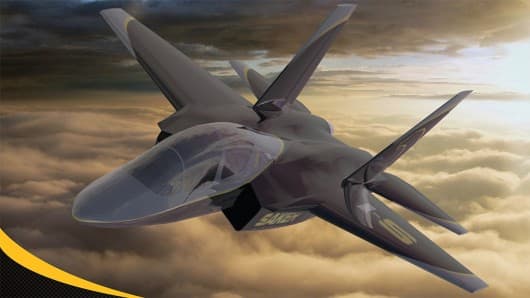 ​
The Saker S-1 is designed to take off and land on runways as short as just 1500 ft. It can climb at the rate of 14,000 ft/min and have a service ceiling of about 45,000 ft. S-1has a maximum range of about 1600 miles (approximately 2575km) with its 1890 liter tank. The designers have added two external 380L tanks to increase the range to about 2200 miles (~3540 kilometers).
The craft has a wingspan of about 27ft and length of about 40.5 ft. It's 15 ft high and has empty weight of 2495 kg. The S-1 can carry maximum payload of about 2720 Kg. Two Williams FJ44-4 engines will power the aircraft and will serve for about 500 hours before needing an overhaul. The company says that the operational cost is about US $2 per nautical mile. It's also the aircraft that uses 20% lesser fuel than its competitors.
Via:
Gizmag
Posted in:
#Coffee Room
Top tech executives would surely get this one.
What the hell? Just because you ripped off a Raptor F22 Lockheed Martin airplane doesn't mean it's going to perform like the real thing. Also, the F22 cost $66.7 BILLION in a public disclosure, meaning actually it probably cost $500 Billion or more to develop. I don't think any other entity than the US Government has that kind of money to spend on airplane R&D, especially not Saker.

It appears the marketing department of Saker was playing a bad joke on the engineering department. Executives would never splurge on excesses such as these: give them a luxurious Learjet any day if they can afford personal or business individual trips. And what's with the runway length tidbit? Who cares? Does the plane come with an aircraft carrier as well?

I sincerely don't think such a plane, if it could fly, would have a market of more than a dozen people.