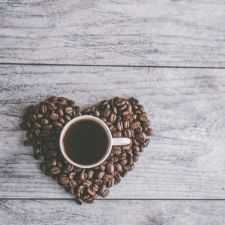 Coffee Room
Discuss anything here - everything that you wish to discuss with fellow engineers.
12893 Members
Join this group to post and comment.
Redmi 5A Ties Up With Jio For New Rs. 199/Month Plan & Rs. 1000 Cashback Offer
Yesterday, Xiaomi launched the
Redmi 5A
in India. In the last article we discussed how the Redmi 5A Indian variant was different from its Chinese cousin and told you how Xiaomi was planning to give back Rs. 500 crores back to its fans by reducing the price of the 2GB RAM + 16GB internal memory variant of the Redmi 5A by a thousand rupees for the first 5 million (50 lakh) customers. The Redmi 5A will be priced at Rs. 4999 (for first 5 million customers) with no strings attached but if you want to opt for Jio as your service provider you can access a new Rs. 199 per month unlimited plan and get Rs. 1000 cashback but there are some strings attached to it. In this article we shall inform you about the Jio Redmi 5A offer and let you know the advantages and pitfalls of this offer by which you can make an informed decision.
The Redmi 5A has a dual SIM slot as well as a dedicated microSD card slot. Although its implementation is a bit odd, it will help users migrating from feature phones to smartphones a way of using dual SIMs as well as expandable storage. Now chances are you are looking to leverage Jio's cheap services on this device along with your current service provider. Jio is well aware of these customers' needs and that is why it has tied up with Xiaomi to launch a bundled offer for Redmi 5A buyers. When you buy a Redmi 5A smartphone, irrespective of its variant you get access to a special Rs. 199 plan. This Rs. 199 plan is valid for 28 days and gives you unlimited voice calls, unlimited data (28 GB high speed 4G data with 1GB per day, speed reduced to 64kbps after daily quota exhaustion) and 100 SMS per day.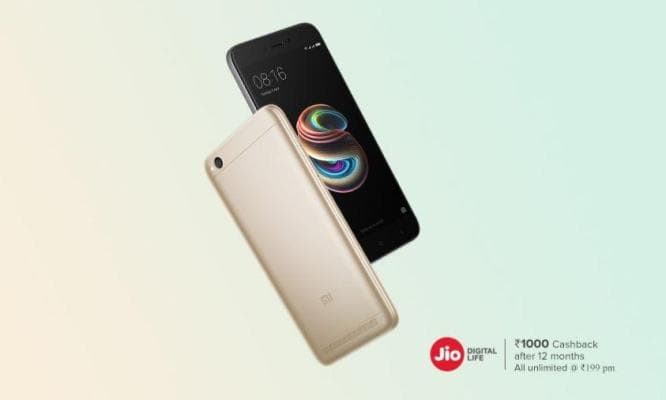 ​
This special Rs. 199 plan will be available for the first 12 months the customer owns and runs the Redmi 5A smartphone. The Rs. 1000 cashback will come into play once you have made twelve consecutive recharges of Rs. 199. After these 12 months you will be sent ten Rs. 100 vouchers to your My Jio app. These Rs. 100 vouchers are valid till November 30th 2019. The vouchers can only be redeemed through the My Jio app when you recharge with Rs. 309 or above plans or Rs. 201 or above data plans.
Now this all sounds tempting but when you take a look at the bigger picture you will find it has some flaws. Please note we are basing these assumptions based on current Jio prepaid plans. If the plans' price and validity change in the future our argument will be moot. If you go for the Rs. 199 plan and wish to avail the Rs. 1000 cashback you will end of spending Rs. 199 x 12 = Rs. 2388 for 28 days x 12 = 336 days. However if you choose to recharge with the Rs. 459 plan which gives you the same 1GB data per day with a validity of 84 days you will be spending Rs. 459 x 4 = Rs. 1836 for the same time period (84 days x 4 = 336 days). When you recharge with the expensive plan you are effectively saving Rs. 552.
If you are still being enticed with the Rs. 1000 cashback, we will show you why it is pointless. If you start your Rs. 199 per month Jio plan as early as 8th December 2017 (the Redmi 5A goes up for sale on December 7th) then you will have completed the 12 recharges by 8th November 2018. Now if you look closely at the terms and conditions of the Redmi 5A Jio offer it says that the vouchers need to be applied before 30th November 2019 which leaves you with 387 days to use your vouchers. Since you already used your Rs. 199 plan for 12 months you will be redirected to use the existing Jio plans and if you go for the Rs. 459 plan (which according to us is the best bet) you will take out four or five recharges within that time and end up spending effectively Rs. 1436 (Rs. 459 x 4 = Rs. 1836 – Rs. 100 cashback x 4 = Rs. 1436) or Rs. 1795 (Rs. 459 x 5 =Rs. 2295 – Rs. 100 cashback x 5 = Rs. 1795). Now in both of these cases you save less (Rs. 400 or Rs. 500 as compared to Rs. 552) if you had recharged with the Rs. 459 plan from the beginning instead of going for Rs. 199 plan.
If you want to save more using your Rs. 100 vouchers you will have to spend more money either queuing recharges in advance or by buying data add-ons depending on your need. We have provided you with the most exhaustive account of this Jio Redmi 5A offer and we hope this has helped you to make an informed decision.
Source:
Mi