Home

>

Apps

>

Groups

>
Question regarding doubler circuit
Question asked by ikhwan ishak in #Electrical on May 14, 2020
Hi all,
I'm currently learning about doubler circuit and found that microwave uses doubler circuit.
So I disassemble one and check the connection of high voltage diode, transformer, capaciotr and magnetron.
The microwave part number is as below.
Model Number : EMM2017X
Brand : Electrolux
From what I learn from doubler circuit, half wave voltage doubler circuit uses diode to charge capacitor, and discharge the voltage of transformer + capacitor, around 4000V to the magnetron.

But when I checked the microwave connection diagram, the High voltage diode is connected directly to ground,
so I am not sure how is the high voltage diode in the microwave actually functioned.

In addition, after searching about the high voltage transformer in microwave, most people said that it consists of 3 terminal, high voltage(output 2000V), and 2 terminal for low voltage(around 3 to 6V).
From the microwave connection diagram, I assume that one is for high voltage(2000V), low voltage(3 - 6V) and the other terminal works like neutral for both HV and LV. Is this assumption correct?
**The middle cable from the transformer in the microwave wiring label attachment.

I have attached the circuit and corresponding attachment for this issue.

I have checked regarding this for weeks, and still couldn't understand it.
Any help could be much appreciated.
**As I cannot attach multiple image, i only attached the microwave connection diagram only.

Best regards,
Ikhwan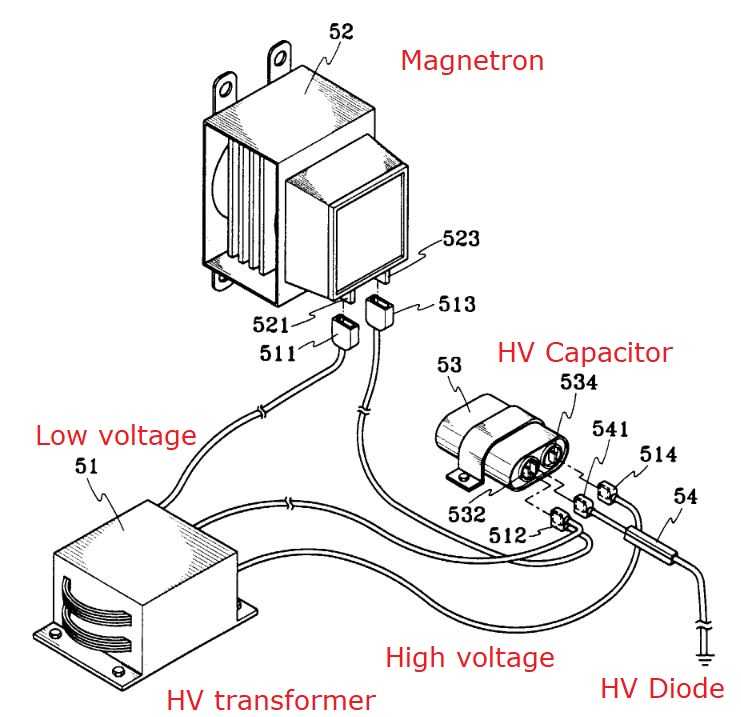 Posted in:
#Electrical