Paytm Adds Messaging Feature 'Inbox' To Its Android App, Competes With WhatsApp In Its Home Turf
A while back we talked about WhatsApp's intention of
introducing UPI powered payments
on its platform. This could be a game changing feature that can eliminate the necessity of mobile wallets like Mobikwik and Paytm where you have to load money in the wallet before sending them and there is a fee for sending the received amount to your bank account. Now as WhatsApp's UPI payment launch is eminent as evident from the presence of the feature on beta, Paytm has decided to change the game by adding chat features natively to its mobile apps. Paytm has added a messaging platform called as Inbox to its Android app and its implementation on iOS is currently in development. Once you know the features of Inbox you will know it is Paytm attempt to counter WhatsApp in its home turf.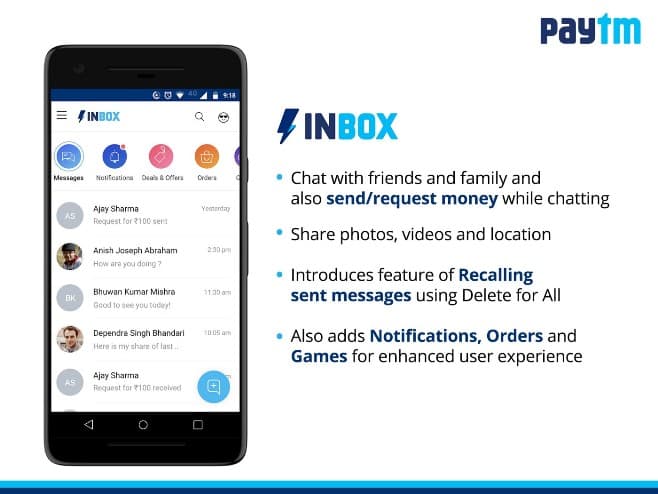 ​
The Inbox feature is built natively on Android app and is available for users who have updated to the latest version 6.3.1. Now as you might expect the Paytm Inbox has all the instant messaging tools you need. Apart from sending text messages, you can send photos and videos too. You can share your location but cannot broadcast your live location like you can do on the WhatsApp's Android and iOS apps. Paytm has integrated the facility of requesting and receiving money within Inbox. You can send any amount between Rs. 1 to Rs. 5000 in a single transaction and up to Rs. 25,000 in a month as stated by RBI guidelines.
The biggest clue as to Paytm's intention of attacking WhatsApp in its home turf is noted from the fact that Inbox has the 'Delete For Everyone' feature. Paytm Inbox calls the feature as 'Delete For All' and it works exactly like
WhatsApp's 'Delete for Everyone'
feature. Once you send a message to either a single recipient or in a group, you can long press on the chat bubble to bring up the prompt to delete the message for yourself or for all. Paytm says that this feature will have no time restriction which means you can revoke sent messages anytime you want. You have to note here that WhatsApp has a seven minute window after you have sent a message where you can revoke the message.
On Inbox you also get separate tabs for Notifications from Paytm, your orders on Paytm Mall & Paytm and Games. We tested out this app on our phone and found it quite good with some rough edges. Photos and videos can be easily sent and location sending is a breeze. Requesting and sending money has been implemented with good user interface, However we could not get the "Delete For All" feature to work. Long pressing the chat bubble led to the text being copied on to the clipboard and the delete prompt would not show. If you have updated Paytm app and have access to the Inbox feature, share your experiences and reviews in the comment section below.
Source:
Paytm Blog
.
Inbox FAQ
Update: The "Delete For All" feature works after another update. You have to swipe the message bubble towards right and you get the delete option.
Only logged in users can reply.