Home

>

Apps

>

Groups

>
OPPO N3 finally arrives in India with a price tag of Rs. 42,990
Question asked by Ankita Katdare in #Coffee Room on Apr 8, 2015
OPPO Electronics took the smartphone world by storm when it launched its one-of-a-kind smartphone '
OPPO N3
' along with R3 at the Singapore launch event. OPPO N3 has more than one reason to become a reason for second glances as and when it lands in the hands of users. The phone features some of the most exciting specifications. Be it its design, its looks, its camera or even its access mode, there's something new at every turn. Without further adieu, let's take a look at what makes OPPO N3 so unique an Android smartphone.
The first and foremost thing that catches the eye of the user its OPPO N3's camera. Sitting on top of the display is a motorized camera featuring a 16 megapixel Schneider-Kreuznach certified lens with max resolution of 64MP, which can be rotated in 206° angle, thus making it suitable for both - capturing HD images as well as taking selfies. The camera comes with 5 optical lenses integrated onto it and a 1.34 micron pixel size. The Chinese manufacturer believes that OPPO N3's camera is best in class of most Android flagship devices. To further enhance the photography experience, OPPO N3 comes with Dual LED flash, and a PI 2.0+ software engine. This engine does a smart analysis of the surrounding environment whenever the user opens the camera app and comes up the most apt color optimization solution. The number of modes available to suit each user's needs for different situations are all worth a look.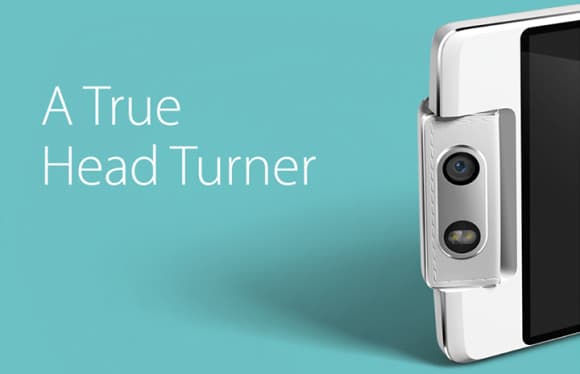 ​
Coming to the design of the device, here we have a smartphone created from a robust industrial grade aluminum alloy 7075 micro-arc frame that gives it a stylish classy look and a sleek form factor. On the specifications front, we find that the 2 GB RAM and 32 GB internal memory (expandable up to 128GB) combo will work best for most users and a 5.5 inch FHD resolution screen with 403 PPI pixel density won't fail to impress you when checking out various apps and even self-captured images and videos. Running on a 2.3 GHz Qualcomm Snapdragon 801 Quad-Core, the OPPO N3 smartphone features a 3000 mAh battery and Color OS 2.0.1 on top of Android 4.4 KitKat operating system. Here's what the N3 looks like -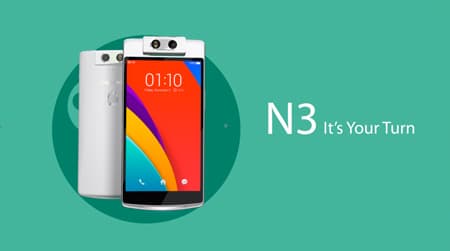 ​
When it comes to accessing various features on OPPO N3, the various gesture controlled operations look quite handy. For instance, with there's an option of controlling the motorized camera with either O-Click 2.0 or Bluetooth Remote Control or Touch Access. Moreover, there is a way of accessing specific apps by assigning five different fingerprints or setting up individualised guest modes for others. To emphasise on the way the rotarized camera is making lives easier for selfie-crazed common man, OPPO mobile has come up with the following video -
Coming to the pricing and availability - The company has declared that the OPPO N3 smartphone has been made available for pre-booking via various stores in India at Rs. 42990. Though the cost is on the upper side and only customers with higher budget will be able to buy it, we are thinking that the OPPO N3 might find a lot of traction among Indian customers, owing to its unique set of features.
What are your thoughts on the new OPPO smartphone in India? Share with us in comments below.
Source:
OPPO N3
Posted in:
#Coffee Room