CrazyEngineers V4: Early Access
We are developing the next version of CrazyEngineers. If you wish to receive latest updates and early access, click the link below.
Home

>

Apps

>

Groups

>
Nimbus Data unveils new 100TB SSD with World's largest storage capacity
Question asked by Amol Agarwal in #Coffee Room on Mar 20, 2018
Nimbus Data, a California-based company which specializes in flash memory solutions has launched the World's largest capacity SSD which can hold 100 Terabytes of data, dethroning Samsung of the prestigious title it had been holding for quite a long time now. Interestingly, Samsung had launched a 30.72 TB SSD exactly a month ago. A more than three 3x increase is not an easy feat as is evident from the fact that Samsung took almost two years to double the capacity from 15.36 TB to 30.76 TB.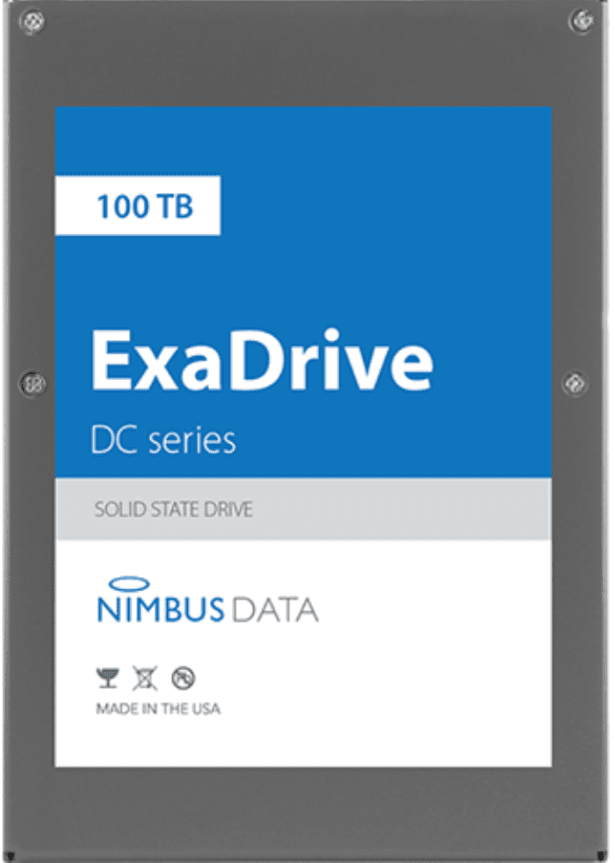 ​
The USP of the new ExaDrive DC100 is that it consumes 85% less power per TB when compared to other traditional SSDs while offering such a huge capacity. The SSD employs a patent-pending multiprocessor architecture along with 3D NAND to accommodate such large capacity. To put things into perspective, 100 TB is enough to store 20 million songs or 20,000 HD movies. A single rack in a data center with these new SSDs can store 100 Petabytes of data.
The drive will be available in 50TB and 100TB capacities with a 3.5-inch form factor and will be fully compatible with a large number of interfaces, hence they can directly replace the old hard disks. The ExaDrive consumes 0.1 Watts per TB and achieves up to 1,00,000IOps(read/write) and up to 500MB/s throughput. Such large data capacity in a portable design would easily allow its use in machine learning applications where large data sets are analyzed. Capacitors are embedded into the drive to safeguard it against the loss of buffered-data in the event of a power failure. The drive also offers a mean time between failures (MTBF) of 2.5 million hours.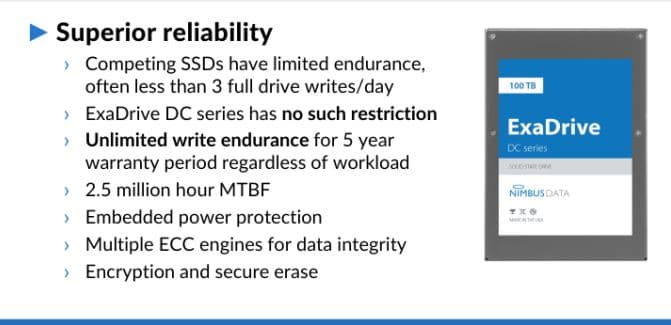 ​
Nimbus data seems to be confident of the drive's reliability and offers a 5 year unlimited endurance guarantee. The new drive features safety mechanisms like encryption, multiple ECC processors, and a secure-erase feature. The SSDs are currently being supplied to strategic customers of the firm but will be available to all starting this summer, Nimbus said in a press release. Pricing of these new models will be similar to existing enterprise grade SSDs while offering up to 85% reduction in operating costs.
Source:
Nimbus Data
Posted in:
#Coffee Room