Home

>

Apps

>

Groups

>
Newer Smartphone Displays From Samsung Could Repel Water Thanks To ORNL's Innovation
Question asked by Satya Swaroop Dash in #Gadgets on Sep 27, 2016
One of the most irritating things to happen this monsoon is water on your smartphone. Even tiny splash of water could potentially damage your precious smartphone. Samsung Electronics, the leading smartphone manufacturer in the world is on this problem. They have exclusively licensed optically clear superhydrophobic film technology from the Department of Energy's Oak Ridge National Laboratory (ORNL) to make use on its electronic devices like smartphones and tablets. This means future devices from Samsung could be immune to water splashes and not in the way where you can use it in rain but the rain drops would actually bounce away from the display.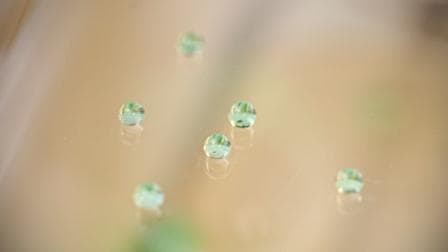 ​
Let us take some time to discuss the term 'superhydrophobic' which is a little more complicated than its seems. You see for a surface to be called superhydrophobic the water droplet contact angle must exceed 150 degrees. The coating developed by ORNL has a contact angle of between 155 and 165 degrees where not only the water bounces away it takes away the dust particles sticking on the surface. This would help us to get rid of the smudges on the screen very easily. So how have the team at ORNL achieved this feat? They started off by depositing a thin glass film on a glass surface and heating the layer on the top to separate material compositions. Next they employed a selective etching process to produce a porous three-dimensional network of high-silica content glass that resembles microscopic coral and enables water-repellent and antireflective properties.
The team led by ORNL's Tolga Aytug suggests that this technology can be used not just on electronic devices but also on solar panels, lenses, detectors, windows and many other products. Now we know that Samsung has licensed this technology but we do not know when products laced with this new innovation will reach customers.
Source:
ORNL
via
SlashGear
Posted in:
#Gadgets