CrazyEngineers V4: Early Access
We are developing the next version of CrazyEngineers. If you wish to receive latest updates and early access, click the link below.
Home

>

Apps

>

Groups

>
Neurogrid Circuit Board Mimics Human Brain, Works 9,000 times Faster Than PC
Question asked by Ankita Katdare in #Electronics on Apr 29, 2014
When the team of bioengineers at Stanford University came together - what they built was a pathbreaking, new circuit board that is inspired from the human brain. They have create an energy-efficient microchip board that works 9,000 times faster than a typical PC and uses significantly less power. Such power has the potential to push the robotics and computing frontiers a mile ahead. Even though human brain's computing powers have been found to be unmatchable, Boahen and his team have been able to mimic it on various grounds. Called the "Neurogrid", the circuit board consists of 16 custom-designed "Neurocore" chips, which can together simulate 1 million neurons and billions of synaptic connections.
With power efficiency at the heart of their goals, the Stanford bioengineers developed this device which is the size of an iPad. Next on their target list is developing a compiler software for Neurogrid (, that can help engineers control humanoid robots, even if they have no knowledge of neuroscience. Other than modeling the human brain, the young scientists from Stanford are working on developing prosthetic limbs for paralyzed people that shall be controlled by a Neurocore-like chip.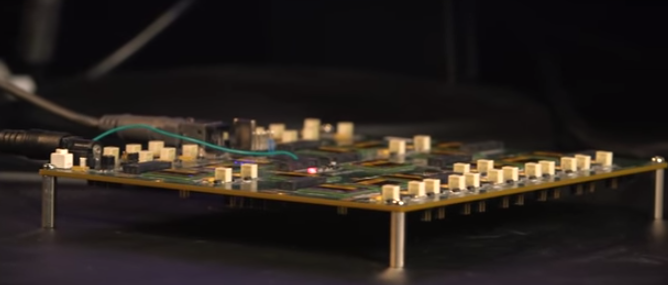 ​
In his article, Boahen shares about two projects that are comparable to Neurogrid andattempt to model brain functions in silicon i.e. hardware and/or software. One of these efforts is
IBM's SyNAPSE Project
– short for Systems of Neuromorphic Adaptive Plastic Scalable Electronics, which aims to redesign chips, code-named Golden Gate, to emulate the ability of neurons to make a great many synaptic connections. Another one is Heidelberg University's BrainScales project that aims to develop analog chips to mimic the behaviors of neurons and synapses. Their HICANN chip – short for High Input Count Analog Neural Network – would be the core of a system designed to accelerate brain simulations, to enable researchers to model drug interactions that might take months to play out in a compressed time frame.
Using modern manufacturing processes, we will be able to fabricate these chips in large volumes and at much lower costs. This means a million-neuron board could cost just $400 per unit. With the compiler software and cheaper hardware in place, the Neurogrid shall find numerous useful applications in the years to come. Do take a look at the following video put together by the team mates working on this project -
What are your thoughts on the Neurogrid circuit board? Share with us in comments below.
Source:
Stanford News Blog
Posted in:
#Electronics