Technical
NASA's Solar-Powered Spacecraft 'Juno' Travels 793 Million Kms - Sets New Record
Debasmita
JUNO, NASA's spacecraft designed for its mission to Jupiter, has broken the existing record to become humanity's most distant solar-powered envoy on January 13, 2016. The JPL press release confirmed that history had been made at 11 a.m. PST (2 p.m. EST, 19:00 UTC) on Wednesday, Jan. 13, when the distance between Juno and the Sun was 793 million kilometers. With this performance, Juno overpowered ESA's flagship emissary, Rosetta, which had covered 792 million kilometers during its approach to the comet 67P/Churyumov-Gerasimenko.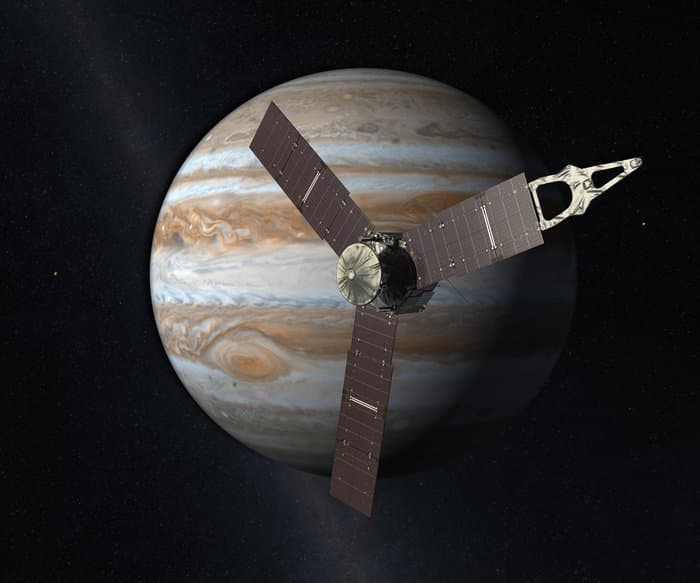 The Juno
​
JUNO embarked on its journey to our Solar System's largest planet, Jupiter on August 5, 2011 from the Cape Canaveral Air force station. The spacecraft was scheduled to be placed in a polar orbit to study Jupiter's composition, gravitational field, magnetic field and the polar magnetosphere on July 4, 2016. Juno is the first long-distance solar powered spacecraft designed ever, and is equipped with three symmetric solar panels with large surface area.
Weighing 4 tonnes, Juno carries three 9 meter long solar arrays embedded with 18,698 individual solar cells. It had the potential to generate approximately 14 kilowatts of electricity, if it had been placed at the same distance as the distance from the Earth to the Sun. However, due to the much larger distance of Jupiter-Sun, Juno receives only 4% as much sunlight as it would have on Earth.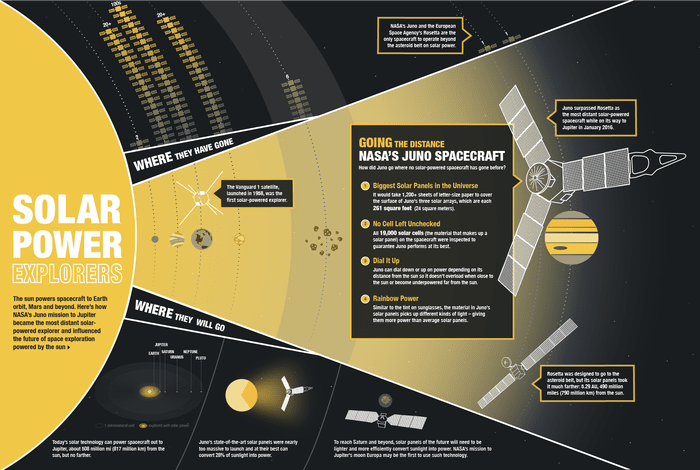 The way Juno is powered
​
Rick Nybakken, Juno's project manager from NASA's Jet Propulsion Laboratory in Pasadena at Calif, explained that due to the large distance from the Sun, Juno could only manage to generate 500 watts power, but with an energy efficient design, Juno provided a commendable output. Juno is the 9th offering of NASA's "New Frontiers" program, and the first which replaced nuclear power sources (Pu-238) with solar power. Juno is now expected to be the farthest man-made spaceship from Sun with a distance of 832 million kilometers.
Scott Bolton, Juno principal investigator at the Southwest Research Institute in San Antonio claimed that JUNO possessed all the latest technology required to unveil Jupiter's clouds and reveal the secrets Jupiter holds to our solar system's early history. After its successful arrival, Juno would be directed to orbit the Jovian world 33 times, skimming to within 5,000 kilometers above the planet's cloud tops every 14 days, over the next 16 months. During its mission, it would throw light on the greatest mysteries of our solar system and Jupiter's unique and poorly understood environment.
Watch the animated interpretation of Juno's trajectory here:
Source:
Jet Propulsion Lab
Be the first one to reply
Only logged in users can reply.