Home

>

Apps

>

Groups

>
NASA And ISRO Join Hands For NISAR Satellite To Study Natural Disasters And Climate Change
Question asked by Debasmita Banerjee in #Coffee Room on Apr 6, 2016
The Indian space programme has recently received yet another feather in its cap, by means of a newly formed scientific partnership between NASA and ISRO. The National Aeronautics and Space Administration and the Indian Space Research Organization have collaborated to develop a dual frequency synthetic aperture radar satellite, named as NISAR. Our world witnesses significant changes in our ecosystem which directly impacts the connected sectors and drastically hinders the biosphere. This collaborative project aims to address such key issues such as global warming and minutely study such complex earth processes like melting ice sheets, volcanoes and earthquakes.
Technologically, NASA has promised to provide the mission's L-band synthetic aperture radar, a high rate communication subsystem, GPS receiver, a solid state recorder, a payload measuring system whereas ISRO would help in the mission by supplying a satellite bus, a S-band synthetic aperture radar, the launch vehicle and various other launching services. This wise collaboration will bear fruit by analyzing recent escalation in temperature and unpredicted earthquakes and tsunamis.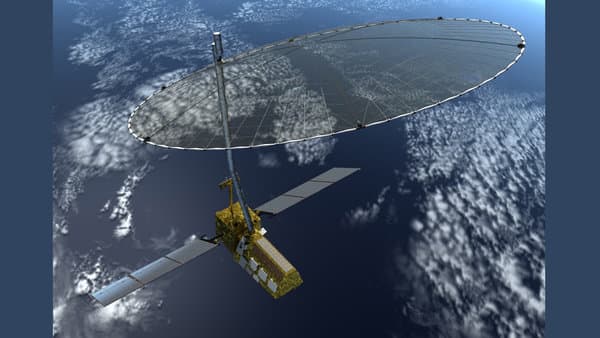 Artist's concept of NISAR satellite
​
The proposed design talks about a radar antenna system that can both transmit and receive electromagnetic waves with a defined polarization. The scale is defined in such a way so that changing the polarization of the transmitted signal could capture data which will be important for a polarimetric characteristic of the sample space i.e. the observed earth.
In the official website, NASA's JPL has mentioned that ISRO has devised different monitoring techniques, from which India will gain immensely. Starting from agriculture, the satellite will gather valuable information by studying clay components, snow and glacier sheets in the Himalayas and in the coastal and oceanic ecosystems. According to the press release, the satellite is expected to be launched in the year 2020.
Source:
JPL
|
NISAR official site
Posted in:
#Coffee Room