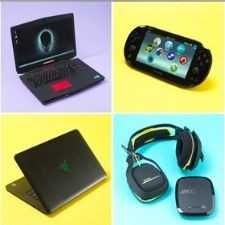 Gadget Geeks
Discuss all electronic gadgets - ask questions, doubts, troubleshooting tips et al. to fellow gadget geeks.
647 Members
Join this group to post and comment.
microsoft/yahoo merger
So what does everyone think of the upcoming merger with Microsoft acquiring Yahoo? Is it good? Will they be successful at taking on Google?
Better search and a good competition to Google.

End user wins.

PS: By the way, it's not a merger. Only a hand-shake for search business.
I'm sure that Yahoo and Microsoft, together, will give Google healthy competition. This is necessary, lest the market leader in search become complacent. Also, as biggie pointed out in the end - WE WIN!!! YAY!!
Yes, but it is very one sided only benefiting Microsoft. Microsoft is getting all the benefits sought after back when they tried to buy out Yahoo but now they do not have the cost. Will Microsoft succeed with running a search engine (their own under the guise of Yahoo page)? Will they together increase advertise share combined?
I guess they are paying a hefty amount to Yahoo!!! for putting up BING on all Yahoo website. Lets see how much competition they can give to Google.

Already BING is showing good signs. Anyways what matter for us is that we will be getting better and newer technologies.

-CB
Well what I think that there is no need of this merger. Microsoft is doing it because it is way behind in race, yahoo has no reason of doing it. Why do they have to compete against Google?? Why don't they try to take away share from all websites other than Google and including Google. They can earn share from Microsoft user or Bing users or Rediff users or Google users or other search websites. Until they don't increase their view of competition, they will never get ahead. By the way here are the stats that should justify my comment.
Taken from Alexa:


You can see why microsoft is so deperate about yahoo, first tried to buy it and now trying to share the company. Microsoft should stop using money and get in some real effort. Make their websites light and fast and they will get a huge boost. Yahoo and Microsoft takes twice the time to load as compared to Google.

So there you have it friends, my opinion, If merger happens, the only one that is going to be profited with it is Microsoft, not even us.
​
I agree with your view as well.
None can Beat Google Mate...
jhbalaji

None can Beat Google Mate...
believe me, it's not impossible, last year a state reached when yahoo got 2% market more than Google even though that stage didn't last long, but shows you positive signs. We don't want any company to have monopoly because that is not gonna do us any good. Competition needs to be tight if you want better and more reliable services.
is it all not very well planned? MS was trying hard to take over YAHOO. I understand brand name is quite essential-, but they could have actually better'ed up YAHOO search rather than introducing BING. Its not a positive indication if MS runs under the cover of YAHOO, but you actually save a lot on the life cycle right?
On the other side , BING is new , we still don't have yet encountered major bugs . Good competetion is always good for consumers, 😁