Home

>

Apps

>

Groups

>
Microsoft Announces Windows Phone 8.1 - Everything You Want To Know
Question asked by Jason Estibeiro in #Gadgets on Apr 3, 2014
Recently, Microsoft announced the release of Windows Phone 8.1 on the Windows Phone blog. This new update boasts of a number of impressive features which will surely make a user's experience more personalised. It introduces marginal changes in various aspects of the device like the Start screen, Lock screen, Calendar, Music and Entertainment, Email and Accounts, Photos and data related fields like Data Sense, Wi-Fi Sense and Storage Sense. In addition to the above, a number of new features have also been announced like Cortana, Action Center and Word Flow Keyboard.
Where better to begin than the Start screen? The previously added feature of three columns for pinning tiles, that had only been introduced for devices with a 5-inch or larger screen, has now been made available on all Windows Phones regardless of its screen size. In contrast to the presently monochromatic Start screen, users will now be able to select their favourite picture as the Start background or choose from the options provided. The Start background will be visible as most of the tiles will become slightly transparent. Also, the Lock screen can be customised with various themes by using "Lock Screen Theme", an app provided in Windows Phone 8.1.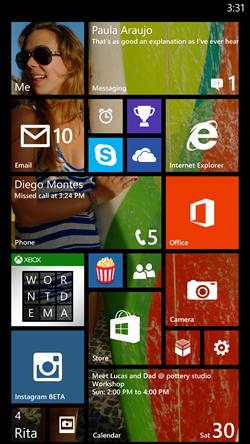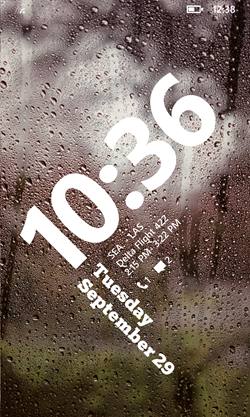 ​
Apparently, as many smartphones have a voice assistant app, Microsoft has also announced the release of
Cortana
as a personal digital assistant. It provides the user with a unique experience and helps the user to interact with the device in a more personalized way with the help of its various features. Click
here
to read more about its features.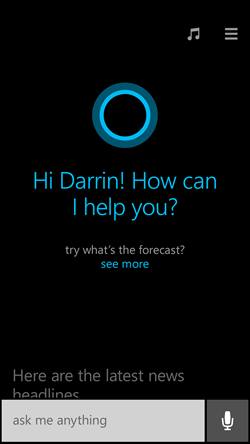 ​
A new yet well-anticipated feature known as Action Center has been announced. Like the notification centre in the Android OS, it also provides quick access to Wi-Fi settings, Flight Mode, Bluetooth and other important stuff. Similar to Samsung's Swype keyboard, the Word Flow Keyboard has been introduced that enables you to glide your fingers over the keys to type at a fast pace.
​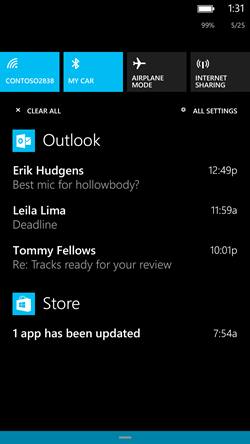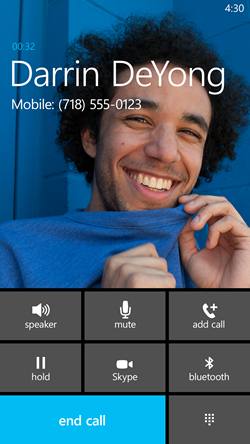 ​
The new Skype app for Windows Phone 8.1 has been integrated with the Phone dialer which allows the user to switch from an ordinary call to a Skype video call. The Calendar has been modified to add a view in which the whole week's activities are outlined and a future date can be approached by panning right. Music, Video and Podcasts have been separated into three apps and a few modifications have been made to them. Due to constant demand by users, the phone volume control has been improved by including separate sliders for ringer/notifications and apps and media. The People Hub now directly connects to third-party social networking apps once they are installed.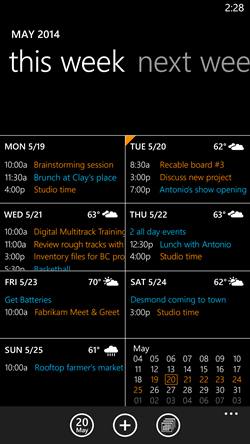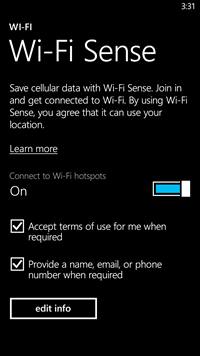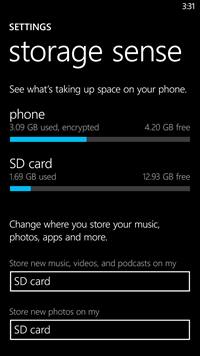 ​
Data Sense
will now provide a new "high savings" mode while browsing the web which will increase the rate of compression of images and less data is consumed.
Wi-Fi sense
is a new addition that has many uses – It connects to free public hotspots automatically, automatically connects to a recognized network once in range and when in a frequented or favourite place, Cortana can be told to switch on the Wi-Fi if it is turned off.
Storage Sense
can be used to move content like apps, music and photos between an SD card and your device's internal storage. Battery Saver has a new "automatic mode" which extends battery life by a long margin.
With this new release, the integration between Windows Phone and PC has been improved. Most of the changes like theme colour, in-app purchases, Wi-Fi passwords will sync across all devices. The Windows Phone's screen can be projected on a PC by using a USB and running a specified application on the PC. With the latest Internet Explorer 11 for Windows Phone, all open tabs and favourites will be visible on all your Windows devices. Also, this new version of the browser gives InPrivate browsing, password caching and a helpful reading mode. Windows Phone 8.1 will release for current Windows Phone 8 owners in the coming months. It will also come pre-installed on the new
Lumia 630, Lumia 635
and
Lumia 930
, as announced by Nokia.
Source:
Windows Phone Blog
Posted in:
#Gadgets
Lockscreen transitions are interesting.... Innovative
When will the official version of Windows phone 8.1. be available ?
or is it available for download?

Any Fellow CEan Using Lumia Phones?
developer preview is available and for that you need to developer unlock your phone.
Aditya Deshmukh

developer preview is available and for that you need to developer unlock your phone.
I Know that.
I'm asking release date for official version of Windows phone 8.1 (for general customers)
According to some tech blogs, it was mentioned at the Start of April, that the update will be sent out to existing Windows Phone users in the next few months.
It means we can expect it by May end. - and that's being super hopeful.