So my friends, here it is! No, the judgement day hasn't arrived yet, but robots now soon will be seen helping in your daily activities and sometimes in movies too for your entertainment. HERB- a robotic butler, which is designed to carry out your household activities is wowing its audiences with its extreme credibility and functionalities and is expected to invade your minds too with its sheer awesomeness!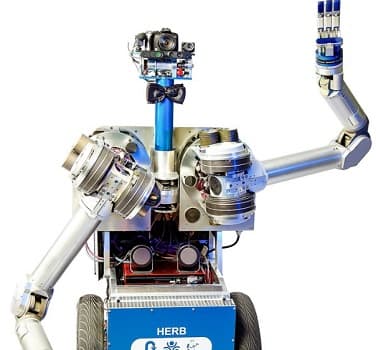 HERB- A Robotic Butler


​

Carnegie Mellon's Robotic institute has come up with an excellent masterpiece which is designed to serve as a research platform of the Personal Robotics Lab, which is directed by Siddhartha Srinivasa, associate professor in the Carnegie Mellon University. His team has named the robot as HERB- the Home Exploring Robot Butler which has been observed carrying out tasks as minute as separating Oreo cookies!


Siddhartha Srinivasa with HERB

​


They have implemented for the first time camera sensing technologies with its help and has converted the robotic hand into a sensor itself so that it can make a 3-D model of its own environment. This will help HERB to not only sense its actions, but also to carry out tasks with precision and accuracy. Their work was published at the IEEE International conference on Robotics and Automation in Stockholm, Sweden on May 17, 2016.

It is being used as a test-bed for algorithms and thus will help them to develop a better technology that will help carry out complex tasks in places where people lives and work. It is a part of a project which is associated with the Quality of Life Technology Center (QOLT). It aims at developing technology which can be applied to everyday activities of people.

Not only minute tasks, but complex tasks like human –machine interaction has also been tested on it. HERB has made its debut in a one-act play named 'Sure Things' and has won the 'Most Innovative Technology' award at the 3rd Annual Robot Film Festival on July 20, 2013.

Though it seems pretty fascinating, it is still restricted to the labs. The team is constantly trying out more new algorithms for making it a better AI butler. HERB now is 11 years old and is still upgrading such that it could soon be found among us, helping us in our daily life activities.

In the beginning of the year 2016, many tech giants have shown keen interests in the AI butler concept, but none of them has come up with anything as such. HERB's only competent is HERB itself as the technology is nothing but a mere machine working on some algorithms. HERB has to be upgraded in such a manner that it could be more cost effective for people to accept it as well as to be more dynamic and this is what many of its admirers are expecting in the near future!

Watch this video to know more about HERB and catch it in action!


Source- Carnegie Mellon University