Home

>

Apps

>

Groups

>
LG Showcases The World's Largest (88-inch) & Highest Resolution (8K) OLED Display
Question asked by Satya Swaroop Dash in #Coffee Room on Jan 2, 2018
LG Electronics takes a lot of pride in its display sub-division as they churn out the best displays available in the market. LG Display has out done itself by bringing out the world's largest and highest resolution display. LG Display is going to showcase its new display at CES 2018 which is an 88inch panel with 8K resolution. Now you might be wondering that we already have larger displays in the market, what is so special about this display? You see unlike the current 4K resolution panels which are LED backlit, LCD panels the new display from LG is an OLED one.
This new OLED display from LG has a resolution of 7680 x 4320 pixels which takes the cumulative pixel count to nearly 33 million pixels. This means the new panel has 16 times more pixels than your home TV which is probably a Full HD one. Even if you own an expensive 4K or UHD TV, the new display from LG puts it to shame as it has four times as many pixels. Now making an 88-inch 8K OLED display was needed because LG had a few thoughts regarding the existing display technology which is LCDs.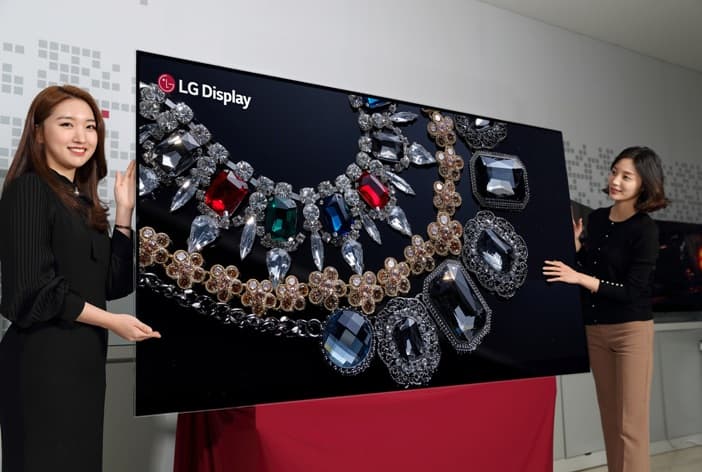 ​
LCDs are usually non-emissive which means they require backlight units. When the resolution of displays is increased something called aperture ratio comes into play. Aperture ratio is described as the ratio of the area that can pass through when a region is not covered by black matrix and wiring portion of the pixel. Normally when electronics manufacturers go for higher resolution they try to reduce the pixel size but this in turn affects the aperture ratio and this reduces the brightness of the display. In order to compensate for the reduced brightness manufacturers have to increase the performance of the backlighting which increases power consumption. OLED panels can easily overcome this issue as OLEDs are self-emissive and require much less power than backlit LCD panels.
Since OLEDs do not require backlight units they are also much slimmer and lighter than their LCD counterparts. OLED panels also offer deeper blacks, wider viewing angles and brighter colours as compared to LCD panels which make them the ideal platform to view 8K resolution content. Now only if 8K content was that much easier to find.
Source:
LG Display
via
Engadget
Posted in:
#Coffee Room