Home

>

Apps

>

Groups

>
Khronos Group Releases High-Performance API Vulkan 1.0
Question asked by Sahil Badani in #Coffee Room on Feb 16, 2016
The Khronos Group, an American non-profit member funded industry consortium based in Beaverton, Oregon, has released Vulkan 1.0 in what is being seen as a combined effort by the biggest players of the computer graphics market to produce a single, open-source, cross-platform API to replace DirectX, OpenGL and Mantle in the context of gaming, providing the benefits of all three. With the new API, developers will be able to write graphics-related code once and use the same code in releases for any platform including Windows 7-10, Linux and Android.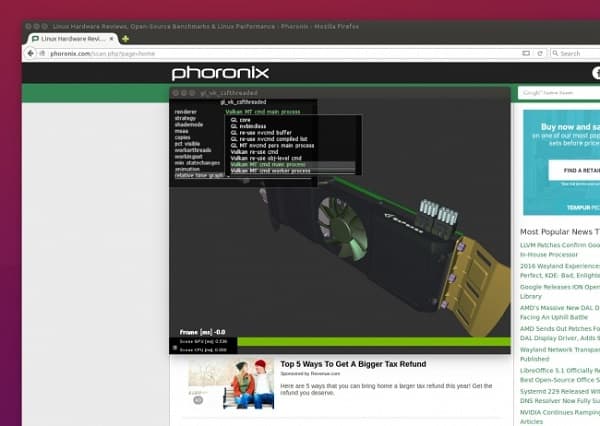 ​
Vulkan is a platform-agnostic standard. The specification allows for drivers to be built for any system.Right now, drivers are available for NVIDIA on Windows 7-10, Linux, Android; AMD on Windows 7-10, Intel on Linux, Imagination Technologies on Linux, ARM on Linux and Qualcomm on Android. Drivers for Intel on Windows and AMD on Windows and Linux are due to be released in their next respective release cycles.
The development of the first iteration took two years of hard work. And now Vulkan 1.0 is out in the wild, for game developers to put their hands on. The first Vulkan-powered game is also in public beta and is being worked on.
Vulkan is the Khronos Group's answer to Microsoft DirectX 12, Apple's Metal, and the former AMD Mantle API for providing high-performance graphics. Vulkan 1.0, designed to fit use-cases ranging from mobile, desktop to console, is an explicit API with multi-threading capabilities, and is much lower overhead compared to OpenGL drivers. It supports precompiled shaders via SPIR-V, and numerous other benefits as mentioned in various Phoronix articles. Unlike the alternative APIs, Vulkan is cross-platform and a real industry standard.Vulkan 1.0 isn't the end of the game but future revisions are, of course, coming once the working group has received feedback from more developers about the specification.
Overall, today is an extremely exciting day and is a critical milestone for open, cross-platform, industry-backed computer graphics. From an end-user perspective, however, one might have hoped for a development from the Linux side with the Vulkan Linux drivers remaining a step behind Windows.
Source:
Phoronix
Posted in:
#Coffee Room