ISRO's GSLV-D5 is ready to put GSAT-14 into orbit
Indian Space Research Organisation (ISRO) is ready for the launch of GSLV-D5 scheduled on January 5, 2014. The launch team has received a green signal from the mission readiness review (MRR) and the launch authorisation board (LAB) teams. The 29 hour countdown for the launch is expected to begin on January 4, 2014. If everything goes well, the GSLV-D5 will leap into the space at about 16:18 (IST) on January 5th. As of writing this article, the launch vehicle has been moved to the launch pad (the tower that holds the rockets upright).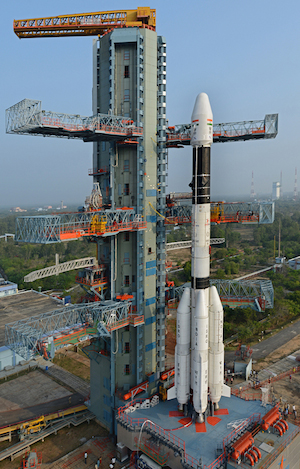 ​
This launch of the GSLV (which stands for Geosynchronous Satellite Launch Vehicle) is going to be interesting and challenging to the ISRO engineering team. The GLSV has seen three continuous failures in the past. ISRO engineers however are confident of successful launch of the vehicle. The team has experienced success recently with the Mars Orbiter via PSLV-C25.
The GSAT-14 is a communications satellite aiming to replace the GSAT-3 satellite; which's been doing its job since 2004. The GSAT-14 is designed to last for about 12 years and carries 6 Ku-band and 6 extended C-band transponders capable of covering entire India. The machine is powered by two solar panels which will generate 2600 watts of power.
We'll keep you posted on the launch & all the relevant happenings. Stay tuned to CrazyEngineers for all the details & updates.
Source:
ISRO

The Launch Authorisation Board has cleared the GSLV D5 launch for 5 January. A 29-hour countdown is set to commence on 4 January at around 11 am,
Only logged in users can reply.