CrazyEngineers V4: Early Access
We are developing the next version of CrazyEngineers. If you wish to receive latest updates and early access, click the link below.
Home

>

Apps

>

Groups

>
Interview with Nithin Kamath, Co-Founder - Crowd.in
Question asked by Guneet Khanuja in #Startups & Business on Oct 28, 2014
With an aim to to spark interest in people who generally shy away from the stock markets, Crowd.in was founded by Nithin Kamath. Crowd.in is a large scale online research platform that creates a real time market sentiment index by soliciting predictions for daily NIFTY closings from the crowd. The predictions are plotted against the index on a live graph on its website, thus making the predicted data available to analysts and researchers.
Crowd.in
is a product of Zerodha. Zerodha is an Indian financial services company founded in the year 2010. Zerodha is a member of BSE, NSE, MCX and MCX-SX. Zerodha has its headquarters in Bangalore, India. Nithin Kamath is the founder and CEO at Zerodha. Nithin won the 2013 Confederation of Indian Industry (CII) Emerging Entrepreneur Award.
In an exclusive interview with CrazyEngineers.com, we got Nithin to talk about his experiences at Crowd.in and Zerodha, the inspiration behind Zerodha, his trading experience that extended for more than a decade before founding Zerodha, the market size for Crowd.in, ways to achieve long-term success and a lot more. Read on!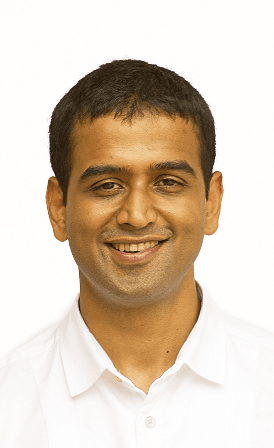 Nithin Kamath
​
1. Hi Nithin. Could you tell our readers more about Crowd.in?
Nithin:
The Crowd Index is the world's first real time, crowd sourced, market sentiment index. The large scale research project, available online at
www.crowd.in
, harnesses the wisdom of the crowds in an attempt to predict market direction every day. It was developed by Zerodha, an online stock broking firm that pioneered discount broking at flat Rs 20 per trade.

2. You founded Zerodha in 2010 after having hands on trading experience for more than a decade. What inspired you to start up with Zerodha?

Nithin:
The idea was to be the brokerage firm that I personally never had for over 12 years trading in India.

3. You won the 2013 Confederation of Indian Industry (CII) Emerging Entrepreneur Award. Could you tell our readers about your entrepreneurial journey?

Nithin:
The journey has been long, started trading when I was 17, Made money and then went bust by 21, joined a call center working nights and trading during day for 3.5 years. Met an NRI who saw my portfolio performance and asked me to manage money for him, I quit my job and started Kamath associates a portfolio advisory business. I also became a sub broker/franchise of reliance money when they
launched in 2006. I was on the right side of the market crash and returned awesome in 2008. Decided to give trading a break in 2009 and be the brokerage in India that matched international standards.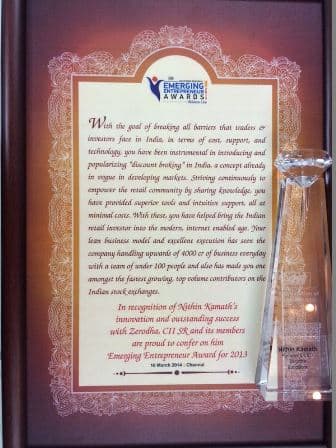 The CII Award
​

4. What is the potential total market size for Crowd.in? What is its growth rate?

Nithin:
Crowd.in is just 3 weeks old, and the target audience is the entire online audience. We thought of a fun way to introduce markets to people who don't trade right now. Considering there are only around 10lk active traders in a population of over 100 crores, financial literacy is important.

5. What according to you is the best way to achieve long-term success?

Nithin:
Long term success in business is to be able to do what you love to do. There has to firstly be a vision and then a passion to back it up. The focus I think should never be money, money is always a by-product.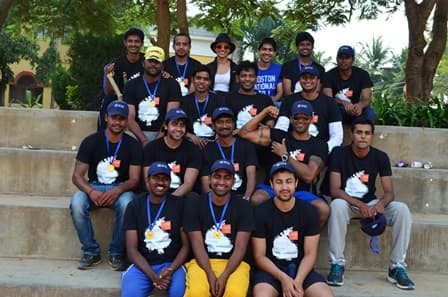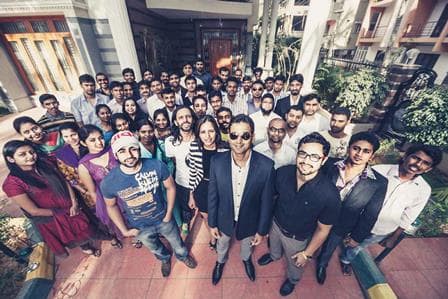 The team
​

6. If you could give the world one piece of advice, what would it be?

Nithin:
I'd say to learn to let go.
7. If you had 3 questions to ask a startup owner to get to know them the best you could, what would you ask?

Nithin:
1. The reason behind starting the startup?
2. Their Stoploss point?
3. The size of the bet both in terms of real and opportunity costs.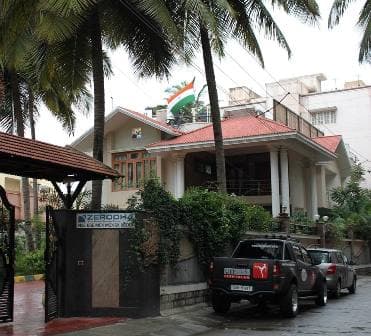 The workplace
​

8. What is the best advice you have ever given and received?

Nithin:
My favorite quote, told to me by a good friend -
Both in trading and life, if you don't bet you can't win. If you lose all your chips, you can't bet.
- Larry Hite
Posted in:
#Startups & Business
way to go Mr.Kamath.
Wishing you all the best.

Satish