CrazyEngineers V4: Early Access
We are developing the next version of CrazyEngineers. If you wish to receive latest updates and early access, click the link below.
Home

>

Apps

>

Groups

>
How does Disney's "Mator's Junkyard Jamboree" work?
Question asked by Zak Diethorn in #Mechanical #Robotics #General Knowledge on Mar 25, 2021
Hello all,
I'm a little new to using a forum like this so bear with me.
I am currently in college and have been given a project concerning the driving mechanisms behind the Disney ride "Mator's Junkyard jamboree." I have been tasked with coming up with a guess/estimate on how the carts are able to move along the figure 8 track and be passed on from one circle to another. Here is a video of the ride so you all can see:
https://www.youtube.com/watch?v=pQDHO7hP5Cs  
As I was doing some research, I saw that Disney had made a patent ( http://patft.uspto.gov/netacgi/nph-Parser?Sect1=PTO2&Sect2=HITOFF&p=1&u=%2Fnetahtml%2FPTO%2Fsearch-bool.html&r=1&f=G&l=50&co1=AND&d=PTXT&s1=%22Cable+tow%22&s2=Whip&OS=%22Cable+tow%22+AND+Whip&RS=%22Cable+tow%22+AND+Whip) for the same ride, but upon further inspection I found some things that didn't seem to match up or appeared to be different from how I viewed the ride operating. One of them being that their patent only includes systems that work as a big loop with some curves in it, nothing like a figure 8 where the system must pass over itself. I am wondering how the tracks and wires can cross over each other when they have to pass through the vertical section of the next cart seen below: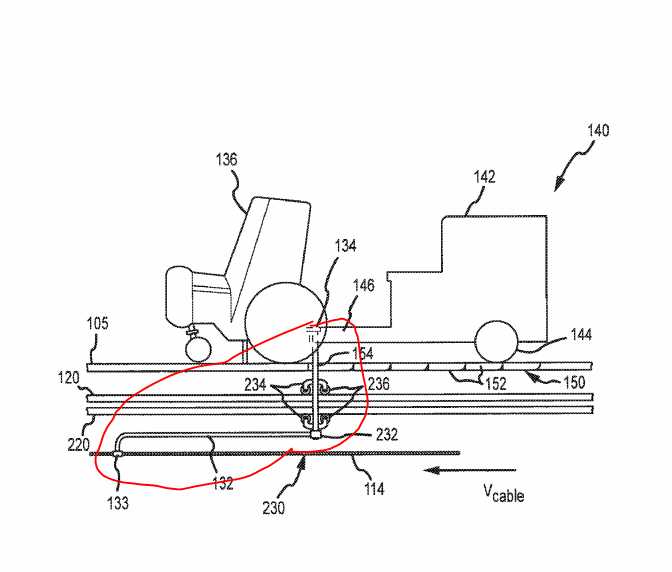 Is the driving wire instead just one big loop around the outside of the track and the pole at 132 can extend and detract to connect to the driving wire? Or am I just insane and missing some easy solution on how the cars can cross paths without the wires and other parts getting tangled.
Can anyone please help me out and explain how this system works as I am very interested about it but am very confused on how the wires can either move through each other or go around one another.
Thank you for the help and I hope to hear back soon,
Dieseld2999
Posted in:
#Mechanical
#Robotics
#General Knowledge