Home

>

Apps

>

Groups

>
Honda Mean Mower Is The Fastest Lawnmower In The World At 187.60 Km/h
Question asked by Ankita Katdare in #Coffee Room on Apr 6, 2014
Honda's long reputation for building awesome vehicles has received another feather in the cap with their latest feat in engineering of developing the world's fastest lawnmower called 'The Honda Mean Mower', that got a direct entry into the Guinness World Records. The first thing that comes to the engineer's mind when one hears the word 'fastest' are the mean machines such as the
Henessy's Venom GT
. But with the mean mower around, your perception of the vehicles that come under the fastest category is about to change forever. Honda's mean mower has officially achieved the record by averaging at a speed of 187.60km/h (116.57mph).
In spirit of Honda's innovation, the Mean Mower was designed by Honda UK's British Touring Car Championship (BTCC) partner, Team Dynamics. The lawnmower packs inside it a 1000cc engine from a Honda VTR Firestorm and a bespoke suspension. Featuring an all-new fabricated chassis, the Mean Mower brings is custom-made from 4130 chromoly (high carbon steel) and has got super soft tyres and the wheels on this mower come from an ATV. The most important part of the machine - the cutter deck is made out of fibre-glass to keep the weight in check and the grass bag holds a fuel tank, a high capacity oil cooler and a secondary water cooling radiator all together.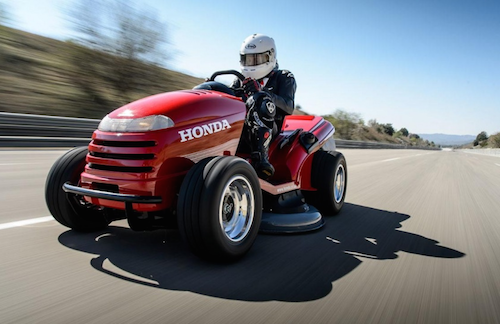 ​
The two electric motors on the cutter deck, spinning 3mm steel cutting cable are able to cut grass at a speed of 24km/h (15mph). On the specifications list of the Honda Mean Mower, you shall find a custom-made paddle shift six-speed gear system and a Cobra sports seat, a Scorpion exhaust system and a steering rack taken from a Morris Minor. Weighing just 140kg, the one-of-its-kind lawnmover produces 96Nm of torque, an incredible PTW ratio of 532bhp/tonne; and an estimated 0-100 km/h acceleration time of just 4 seconds.
Take a look at a video put together by the Honda Team here -
How do you like the concept of cutting grass that fast? Share your thoughts with us in comments below.
Source:
Honda Worldwide
Posted in:
#Coffee Room
Stunning work by. Honda.Its definitely. a cute little monster with a magnificant 0-100 in just 4secs
Add grass cutter in Bugatti,,, Hell yeah 😲.
But 25Kmpl at last of video, I don't think it was actually cutting the grass.
No doubt for a lawn mower this is great speed.
However, I was just wondering where this will be utilized, Do we really require a mower with a speed of 180 Km/ Hr?

Only Thing I could think of is , the gardener can utilize this for travelling from place to place and then utilize this as a mower as well... 😀
The animals/insects/rodents/mammals who use the grass as home - BEWARE! MournMower err LawnMower is coming at you. 😁

On a serious note, WTF? Remove that mowing thingy from underneath that, and add a good mileage and some 'custom' looks (all in good price) and I'd trade my scooter for it as a daily ride. 😒😨
Well who uses a lawn mover in india ?
zaveri

Well who uses a lawn mover in india ?
Golf Clubs.. ☕
zaveri

Well who uses a lawn mover in india ?
It's one of these times when, people say - "I want one and I don't even have a yard."
Some people will argue that a tech giant like Honda should be working on sustainable technology solutions instead of showing off their technological prowess.
Not sure how to argue with that.
All this was possible thanks to
a idea by the Top Gear UK team
.
t seems that Top Gear has overcome the curse of "Ambitious but rubbish". Thanks to the efforts from Honda engineers they have managed to make their ludicrous idea successful. The project would have been a mess if the Top Gear presenters handled it themselves but with some serious technical expertise they have made this successful. But I do not want them to get serious every time with their build since it would take the fun out of the show.