Google Recruiting Via www.google.com/foobar/ ?
Just came to know that
www.google.com/foobar/
is Google's hidden recruiting website. The things aren't very straightforward, obviously. Here's how I think it works:-
Google keeps track of what information you are searching for online.
If it finds out that you are typing in advanced Python or Java related queries for some time, it will show you a mystery box by splitting up the results page and ask you whether you want to take the challenge. (See Picture Below).
If you say yes, you will be taken to the above mentioned URL. It will then ask you to login and show a programming puzzle. You will have about 48 hours to submit your solution. The system auto-tests the solution you have submitted and will ask you to take up next challenge.
If you submit correct solutions to about five or six challenges, the system will ask you to submit your contact information.
A Google recruiter will then contact you to ask for your resume; and then you will be interviewed at Google HQ.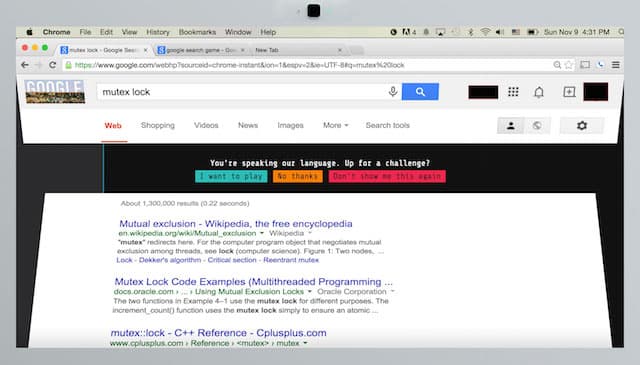 Source:
TheHustle
Read the interesting story of Max Rosett on the source mentioned above. Do let me know if you get the opportunity to solve the challenge 😀

That's shame, my queries are not that advance to get chance in Google challenge 😖

lol... the image shows challenge is shown for searching mutex lock 😉
If they want real deal, they should make this challenge open. Then they will see what some people are capable of 😁
wait... is this already open ???
Anyways, nice info 👍
Only logged in users can reply.