Google Maps iOS App Gets Pit Stop Feature - Now Allows Detours
Yesterday, Google announced the rollout of pit stop feature for Maps iOS app. Notably, this feature was released on Android months ago. Google's extensive Maps app is a godsend for travelers, and considerably keeps surprises in check. But there have been a few basic features that Google had been keeping off the mobile apps, such as pit stop and waypoints, even though
Waze
, another Google navigation app, has had it for quite some time.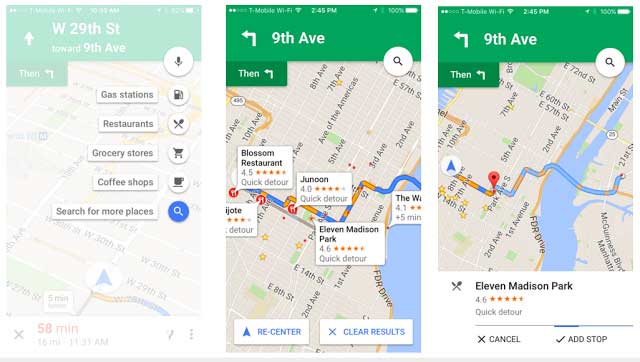 ​
While in the navigation window, one needs to tap on the magnifying glass icon, which lists all popular reasons for a detour, like gas stations, groceries, restaurants and coffee shops. What's even better is that Google lets you search for other specific places too. The pit stop feature supports voice search as well, making it easier while driving, though we advocate not using mobile phones while driving.
Google says, this feature will be available in all countries in which navigation mode is supported, which is more than 100. To help decide easily, the search results include ratings and the time the detour might add to the trip. Everyone knows how you can never stick to a trip plan without making detours. The pit stop feature embraces those essential distractions without leaving the navigation window. This is going to be wonderful for countries like India where reloading a map mid-way is risky due to scarce WiFi and unreliable mobile networks.
Another major feature that Google Maps for iOS lacks is multiple waypoints. Not just adding waypoints, but a route with multiple waypoints constructed on the web version cannot even be viewed on the mobile app. It would be great if Google considered that too. But for now, pit stops are more than good enough.
Source:
Google
Be the first one to reply
Only logged in users can reply.