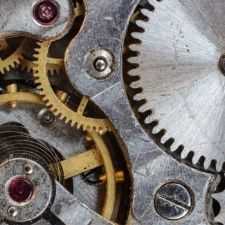 Mechanical
Community of Mechanical Engineers: Get help about everything related to mechanical engineering from fellow mechanical engineers.
810 Members
Join this group to post and comment.
For an Oldham coupling used between two shafts, which among the following statements are correct?
I. Torsional load is transferred along shaft axis.
II. A velocity ratio of 1:2 between shafts is obtained without using gears.
III. Bending load is transferred transverse to shaft axis.
IV. Rotation is transferred along shaft axis.

Choose between:
(A) I and III
(B) I and IV
(C) II and III
(D) II and IV
In an Oldham coupling, there is no change of speed between the two shafts. The shafts need not be co-axial but must be parallel.
Looks like a GATE exam question to me. I googled and found the answer to be: 
 (B) I and IV
Oldham coupling is used to connect two shafts which are not on the same axis means they are not aligned to the same axis